I love decorating with flowers.
Whether they're fresh, printed on fabric, or cut out of paper, they always bring color and sunshine to any decor. They also preach a sermon to my heart.
 I Peter 1:24-25
"…the grass withers and the flowers fall,
but the word of the Lord endures forever."
Flowers and this verse is my favorite combination for a craft for Daily Vacation Bible School.
Because I had "
Wasted Not and Wanted Not
" while crafting Graduation decorations, there were mountains of flowers, one inch circles, and mortarboards that needed to be crafted into decorations.
My dining room table was gloriously covered. I
nspiration  usually comes to me in a messy way,
not a neat, organized way.
I need to spread out all my stuff and look at it. Then, I begin creating.
After the holidays, I left up the grapevine along the mantle,  assuming I would decorate for each holiday or season. I
t had been empty since Thanksgiving,
but it was time to change that.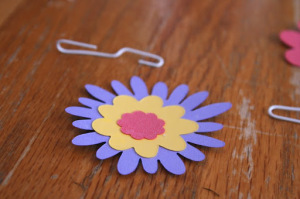 Flowers were layered and glued together with glue stick.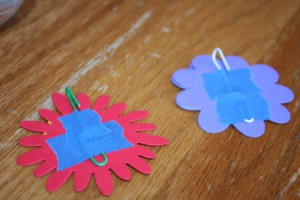 Since I wasn't going to reuse the flowers, (psst….please don't tell my relatives), I just used blue painter's tape to hold paper clips down. No special reason to use this tape,
just it was the only one I could find at the time. My family has this thing about using my 
tape
.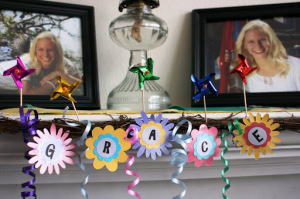 On one side of the fireplace mantle,  the graduate's name, on the other side flowers that spelled out 2011.
I just printed out the letters on a Word document, then used my one inch punch. It has a peek-a-book top so you can see what you're punching to center the words correctly.
Little take-out boxes from Cash&Carry were decorated for
Chex Mix.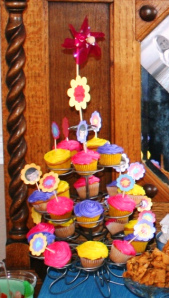 Mini-cupcakes were decorated with homemade floral picks. I
glued two one-inch circles together with a flat toothpick between them. Hot glue makes things lumpy. On one side I glued a small flower and a mortarboard. For some of the picks I used small pics of Grace in her cap and gown.
As I was cleaning up after Graduation, I had a handful of these beauties in my hand, while hearing those warring voices in my head~
"Save them, you might need them."
"Don't save them, throw them out. You save too much."
"You might need them…."
"You'll never need them….."
I boldly threw them out, because
I could.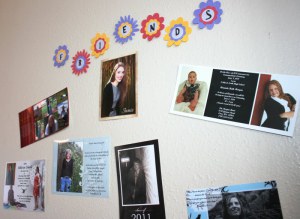 We celebrated the graduations of other friends by posting their announcements and pictures on a prominent wall.
The flowers were bright, festive and made Grace's graduation party so beautiful. But, after all that work, they were thrown away. I know, what a waste.
But, from now on, may flowers always preach this silent sermon to your heart.