When I saw these adorable mini take-out  boxes at Cash&Carry….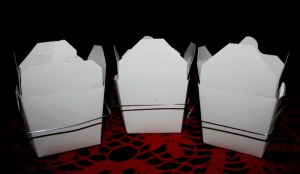 …I had to buy them.
.
Then, I had to think  inside the box. What could I fill them with for our graduation open house?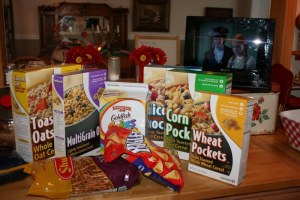 I bought all this,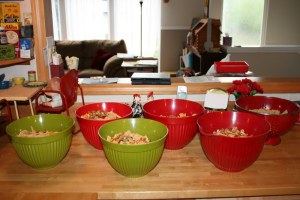 divided it into these,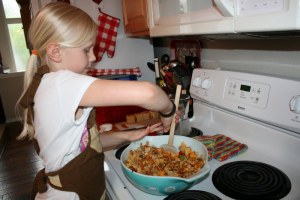 and cooked it in this.
.
Years ago I sent in enough box tops to get a microwave bowl with the Peanuts gang and the Chex logo on it, the perfect size to make one batch. But after years of making pounds of the stuff, the bowl literally burned in the microwave.
.
Now, the vintage Pyrex bowl  from my sister-in-law
Nita
works perfectly. It's my new "Chex Bowl."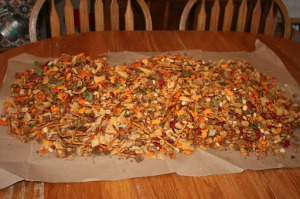 Beka and I made eight batches. Our tradition is to cut open a paper bag to cool the mix on.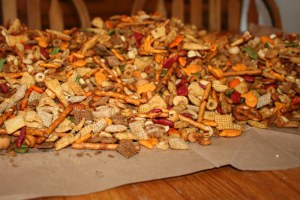 Of course, I don't always follow the recipe.  I love using Bugles and colored Goldfish. I also double the amount of seasoned salt and Worcestershire sauce.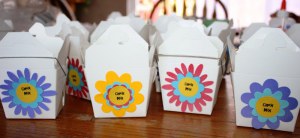 Then we decorated with
flowers
I cut out using my new Cuddlebug.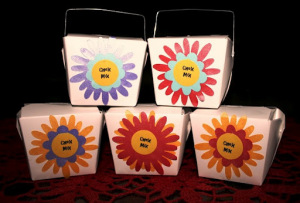 After the mix was cooled, I put 3/4 cup into a fold-top sandwich bag and sealed it with a twisty tie before putting it in the boxes. (The zipper type bag didn't fold to fit into the box.)
.
I put the filled boxes into a cardboard box and put it in my freezer. Chex mix doesn't mold but gets stale,  so I always make it ahead of time and keep it in the freezer. Other than just being adorable, having snacks in packages helps feed a crowd quickly. I needed to keep the food line moving. With a perfectly sized portion, there wasn't any waste.
.
The extra boxes were taken to the end-of-the-year softball party.
Score again!
.
Because they were so fun to use, I want to keep these boxes on hand for other special treats, but I need more inspiration.
.
Think~
what would you put
.
inside the box?