I come from a big family.
My husband comes from a big family.
We had a big family.
When family isn't around and we're lonely, we invite friends over to fill up the house. In other words, there can be many people in my house at any given time. We love having people around,  and enjoy making them feel at home enough to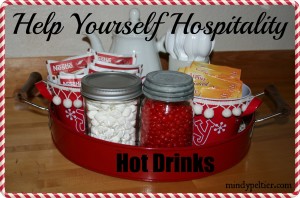 During the winter holidays, hot drinks are made available on my kitchen counter, ready for expected and unexpected company. I like drop-in kinda' company. It's a Midwest thing. It says they like the real me enough to be willing to throw things off the couch to sit down.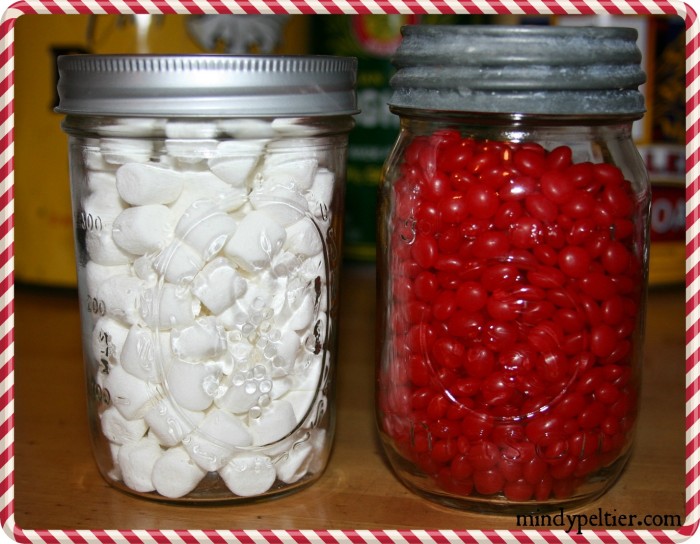 I start with jars of mini-marshmallows and red-hots.
Add a festive tubs of hot chocolate and hot cider mixes.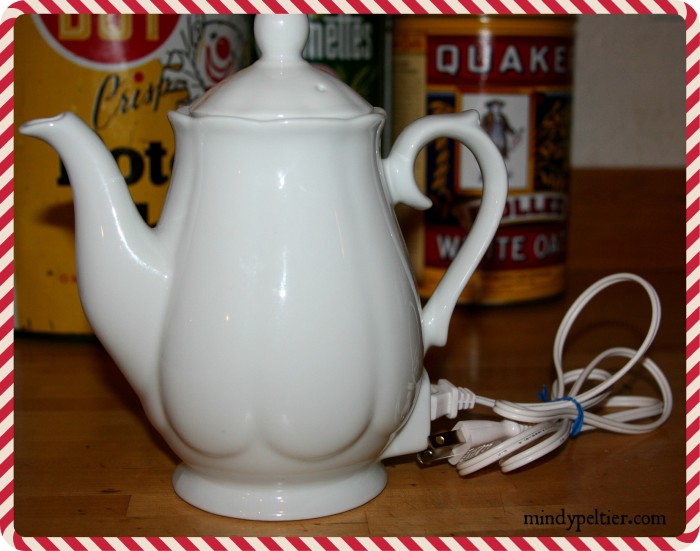 Add one pretty hot pot.
Mixed all together on a metal tray, and you have a
Help Yourself Hospitality Center for Hot Drinks.
We normally don't drink hot chocolate and apple cider or give  kids marshmallows to eat,  but at the holidays, there are some rules that are meant to be broken. Of course, the coffee pot is always on. Regular coffee is brewed until supper, then we switch to decaf.
The evening meal is called supper if you are from farm country, because lunch is called dinner, and lunch is the meal you bring to the farmers in the fields between dinner and supper. Lunch can also be a snack between breakfast and lunch, if ya' got up really early to work in the fields.
So, if you followed that little rabbit trail, the order of meals for Midwest farmers goes breakfast, lunch, dinner, lunch, supper. Got it?
(See, another trick in hospitality.  If you invite someone for dinner, you better know where they're from. We had a friend who didn't know this and invited someone to dinner. She was surprised when they showed up at noon.)
Anyhoo…
My good ol' Norwegian relatives drink a lot of black coffee. Nothing is added to the coffee, no milk and no sugar, we drink it black, because they dunk their cookies in it. That's where the sugar comes from. My Mom calls cookies and coffee, "A Norwegian Breakfast." I love being Norwegian.
The generations that have lived through the Depression make their coffee so weak, you can see the bottom of the cup through the coffee. My brothers call this "Lutheran Church Basement Coffee." Norwegians who know the Depression is over make their coffee strong. My brothers says it will grow hair on their chest. Depending on who made the coffee in the morning,  I either add a little hot water to dilute or  drink a few extra cups to wake up.
In the mornings, I feel no pressure to get up and rush out to the kitchen,  because I have established the ability for my guests to
Help Yourself.
I don't have to wake up, until I smell the coffee.