I had the privilege of growing up in Montana, a state of rugged land and rugged people. 
It's a state where you watch for rattlesnakes and prickly pear cactus, neither bother you and you know both are edible.
The average person never dresses completely in style or completely out of style, and cowboy is always an accepted style.
A four-wheel drive pickup has always been the vehicle of choice, and not because of the flashy commercials and current buying trends, but because you can help your friends move, transport your building materials, and haul home the gutted deer that's food for the winter.
Montanans have been slow to adapt drinking good coffee, but are quick to offer you a cup if you stop by.
When I visit Montana my soul is invigorated. I'm alive and I'm home. I write and photograph like a mad woman, knowing the visit will soon be a vaporous memory.
In 2005 I received my first digital camera and immediately forged the  habit of shooting pictures through the car windows. We had driven to Montana for Thanksgiving with the relatives, and I was reluctant to leave.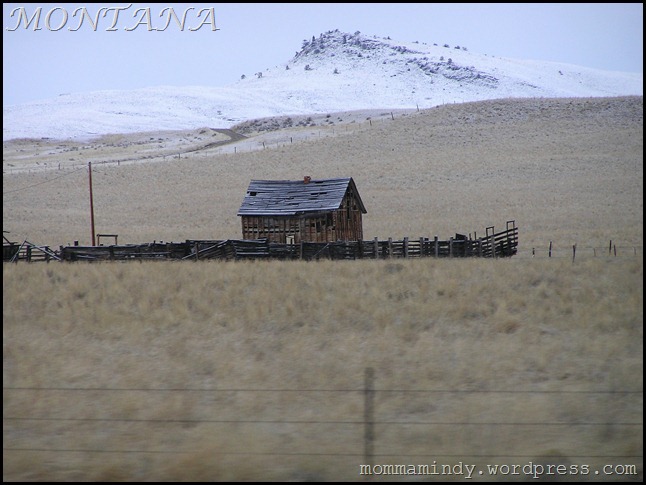 On my way home, I shot frantically out the water-spotted windows, capturing those last fleeting images that would be my final souvenirs of a too-short visit.

I wondered if these ranchers were content with their simple lives and their land, or if they dreamed about the city lights and all that existed beyond their mountains.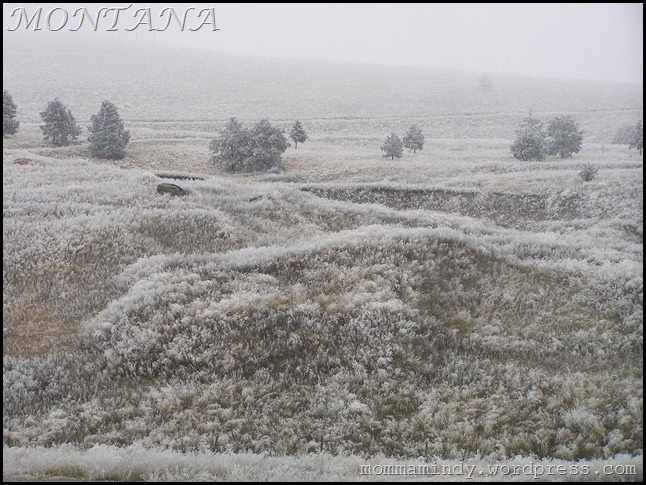 Hearty sagebrush kissed by winter's frost, brought a lacy, softening touch to the landscape.

A peak into a valley I imagined Lewis and Clark traveling through. I can almost see Native Americans on their horses watching the process below. Shadows of past buffalo herds highlight the base of the mountains. 
I long for the rocks to speak, to tell me the stories I have missed.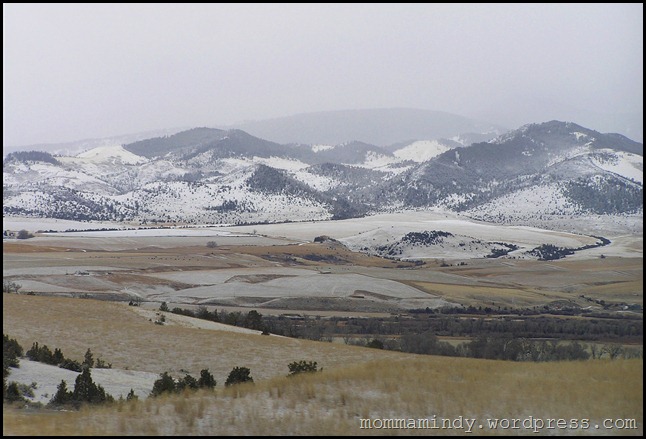 The winter beauty of Montana isn't the flashy floral beauty and white sandy beaches of warmer climates. But, if you look closely, you will see so many shades of brown, gray, and green, your heart will marvel at the Creator's subtle palette.
The foothills of the Rockies aren't the towering peaks that demand to be conquered, they're the mountains of quiet strength and constant presence.

Even the rocks cry out majestically in their diluvian formations. There is gold in those hills, and silver, sapphires, copper…it's the Treasure State, but the treasure it gave me  wasn't monetary.
I shot through the valley and into the mountains. I shot horses, trees, and the Yellowstone River that  kept us company for part of the trip.
And then, I put my camera down. There was no prolonging it any more. 
I had to go home, and my home isn't in Montana.
But my heart is.