Last week my guest blogger, Kim Vandel, introduced the Pin It Bookmarklet. It was awesome to learn a new Cool Tool by reading my own blog!  Gentle Readers, today she has a tip in using Pinterest to gain readers, not just pinners. 

Kim Vandel is a writer and voracious reader from the Seattle suburbs, and she's the Public Relations Coordinator for Northwest Christian Writers Association. She recently became a finalist in the 2013 Cascades Writing Contest in the Unpublished Young Adult fiction category. You can find her at kimvandel.com.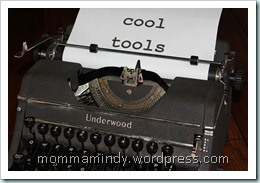 Most writers want more readers, but the question is how to draw those readers to our blog or website. There are so many blogs out there that it can be hard to get noticed.
One of the reasons I joined Pinterest was the chance to connect with my target audience. Pinterest boards are a simple but effective way to share my point of view with potential readers. What do I mean by point of view? I'm talking about how I see the world. My interests. The things that grab my attention. The things that make me laugh. People who connect with my point of view are more likely to be interested in what I have to say and check out my blog.
I created a board for my blog when I joined Pinterest, but it wasn't exactly a success. In other words, I didn't have any referrals from Pinterest. Zip. Zero. Zilch. Discouraging, yes, but I soldiered on. I'm an observer and thinker, and sometimes it takes a while for my ideas to make their way to the surface.
I was getting plenty of likes and repins of my quotes, but I didn't like the fact that Quozio and Pinstamatic were getting the credit. I want people to find me and my blog, not a quote-making website, so I decided to try another tactic. Instead of posting a quote straight to Pinterest, I downloaded it to my computer and then uploaded it to my board. A better option, but all the pin said was that I uploaded the quote.
Then I found my new best friend, the Pin It Bookmarklet. I could pin from pretty much anywhere, so why not my blog? Instead of uploading those quotes to Pinterest, I started adding them to the Media Library on my blog and used my handy-dandy bookmarklet to pin them to my Inspirational Quotes board. Since I started pinning quotes from my blog, I've gotten more referrals from Pinterest than anywhere else—Google, WordPress, Facebook, or Twitter.
So my Cool Tool for today is really more of a Cool Tip: How to make it easy for "pinners" to visit your blog.
First you'll need last week's Cool Tool, the Pin It Bookmarklet. Then check out Mindy's blog on turning a quote into a masterpiece if you missed it. Use a site like Recite This that will let you download your quote masterpiece to your computer. (It should automatically go to the "Downloads" folder.)
For WordPress users, you'll find the Media Library on the sidebar menu of your dashboard.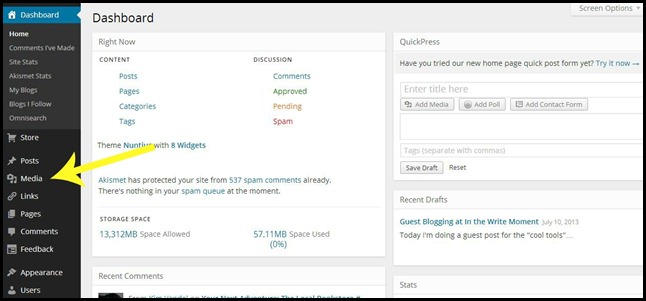 You'll see two options when your cursor hovers over "Media." Click on "Add New."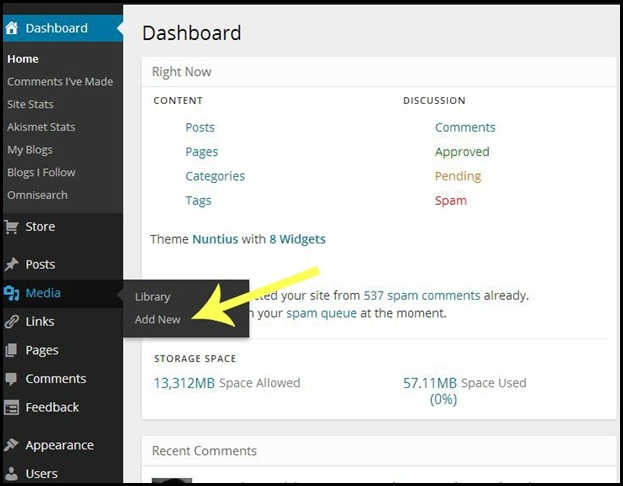 This will take you to the "Upload Media" page. Click on the "Choose File" button and select the quote you saved in your Downloads folder (Step 1). The name of your file will show up next to the "Choose File" button when you're done.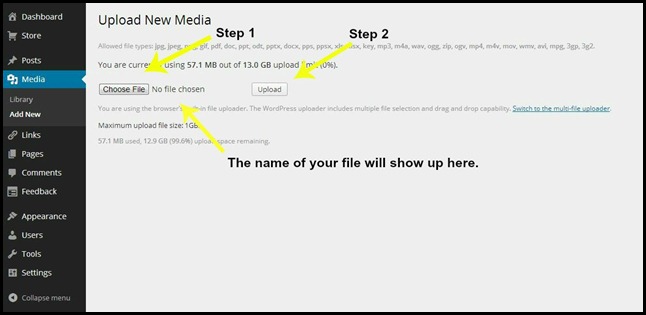 Now click on "Upload" (Step 2).
The next screen will be your Media Library. Three options will appear when your cursor hovers over the title of your quote. Select the "View" option.

It will take you to a page with your quote.
Now click on your bookmarklet icon.
Choose the picture of the quote.
The "Create a Pin" window will pop up. Select which board you want to pin your quote to and edit the description if necessary.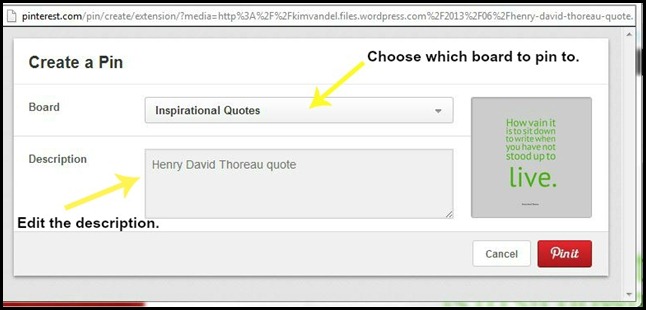 Here's the quote on my Pinterest board. It even encourages a visit to my blog!
I want to make it as easy as possible for potential readers to find me, and with my blog only a click away, there's a much better chance they'll check it out.
Social media can be overwhelming at times. (Or if you're like me, it's overwhelming on a daily basis.) Part of social media is figuring out where and how you make the best connection with your readers. It's a lot of experimenting to find what works for you and what doesn't. It's doing a lot of little things that slowly add up to something bigger. Hopefully you now have one more little thing to help you attract readers.
I'd love to hear how this Cool Tip works for you or what Cool Tip you've come up with!