In Amsterdam, everyone wore scarves, even the men. At first I thought it was only a fashion statement, until the light rains came and the temperature dropped.  Needing extra warmth, I headed into the V & D store to buy a scarf. I don't like shopping, I liked this store.  I was especially impressed that I bought a cashmere scarf for under €20.  That'll learn me to shop without my glasses.  It was actually CASHMINK and made in Germany.  I consoled myself that at least it wasn't made in America.
I was a little slow to buy into this new look, due to a traumatic teenage experience.  At the beginning of my 8th grade, my family moved to a farmstead in North Dakota. That winter, I was invited to go snowmobiling with one of the cute town boys one Saturday. I had never been on a snowmobile in my life, I hadn't even seen one up close.  I spent Friday night in town with a friend, who  loaned me all the correct winter gear to go out on this adventure on the frozen prairie. 
Her dad insisted I wear a scarf.  He was from North Dakota, he knew how cold I would soon be.  Wanting to be cool  like the magazine models, I wrapped the scarf around my neck once and draped one tail gracefully behind my back.  As I hopped on the back of the snowmobile of Town Boy, I was thinking my long,  blond hair might be looking pretty styling peeking out from the brightly colored hat. 
Her dad came racing out of the house, his cigarette dangling from his mouth, his comb-over strands blowing in the wind, and wrapped that scarf around and around and around my head and knotted it behind my head. He kindly talked about it getting caught and all the dangers of the snow mobile. 
I was mortified.
It ruined my hair-do, my make-up and I was breathing acrylic fibers through my mouth and my nose.  I pouted only until the Town Boy hit the throttle and thrust us both into the frigid ND winter.  Not wanting to be too forward, I was afraid to hold around his waist too tightly. After all, I had just moved there and had my reputation to worry about.  I realize now that was probably the idea behind the whole snowmobile date, but at the time, I wasn't understanding those things.  I also didn't know how to lean into turns, and I almost tipped us by staying upright as we flew a bajillion miles an hour over, under and through more snow than I'd seen in my entire lifetime of 14 winters. 
I sat on the back of the snowmobile, trying to hold on with my legs, peering through the narrow strip  between scarf strands, and wondered why North Dakotans thought this was fun.  With all passion of a true ND boy, Town Boy zipped and ripped around the trails.  I'm sure when he headed for a larger mound of snow, he was intending to impress me with his driving ability. The sled went nose-first up in the air, I went rear-first into the snow bank.
He didn't even notice.
I sat in the frozen tundra and watched the man and his machine disappear from view. I didn't know where I was or how to find town, but I knew enough to understand if I started walking and got lost, I could freeze to death out there. My only friend was that scarf  wound around and around and around my head. Town Boy eventually came back to get me, after being warned by his friends he had dumped his date. He was politely apologetic and probably mortified, he really was a nice guy. He  helped me back on and we continued flying frozen. I held on a little tighter, now concerned more about survival than my reputation.
After that date, I never rode on a snowmobile again.
Town Boy never spoke to me again, until the class reunion when we all turned 40.  "Hey, do you remember that snowmobile ride?" 
Do I?  I was scarfed for life!
So, you can understand why I had hesitation when all the fashion divas were urging me to knot something around my neck. I always associated scarves with that memory of being dumped on the first date.
Anyhoo, I knew when I marched around Amsterdam  with my scarf draped gracefully around my neck, I knew I had conquered my Scarf Phobia.
Hubby and I bought lunch at Albert Heijn's grocery store, then ate on the back steps of a palace.  A stinkin' palace, can you believe it?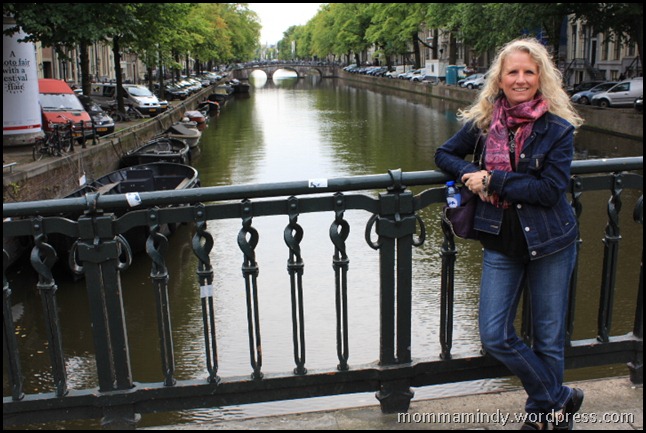 As you can see, I still had a little problem styling my scarf.  I'm not a fashion queen, as the buckle shoes and the jean jacket state.
When I got home, I had found the answer to my problem as posted by Tiffany on Making the World Cuter. She always makes my world cuter.
[youtube=http://www.youtube.com/watch?v=5LYAEz777AU&w=448&h=252&hd=1]
Tie a Scarf Around Your Neck Without Choking Yourself
I saw the European Loop a lot in Amsterdam, but when I tried it with my scarf, it was too stiff.  Claustrophobic people with a huge scar around their neck, don't do well with a lot of material tightly bound around their neck, it felt like a noose. Good thing she had 24 more options!
Without strangling myself, I now have a bit of color  and a lot of warmth knotted around my neck to help me through the gray, Pacific Northwest winter.
Maybe,  I'll even wear it to the next high school class reunion.