People ask me if I Pinterest.
I tell them I already waste too much time in a day .
I don't need to sit and look at pictures that remind me
there are bajillions of women in the world who are
better at
sewing
crotcheting
cooking
knitting
decorating
painting
crafting
baking
salvaging….
While they're busy turning their recyclables into wall clocks,
I'm trying get my teenager to take out the recycle.
While their dryer lint becomes an art medium, 
my piles of dirty laundry have formed artistic shapes.
But, if I DID
Pinterest,
this is the wood I would Pinterest from our September trip to Amsterdam.
See how much time I waste? 
I haven't even finished blogging about  a trip two months ago.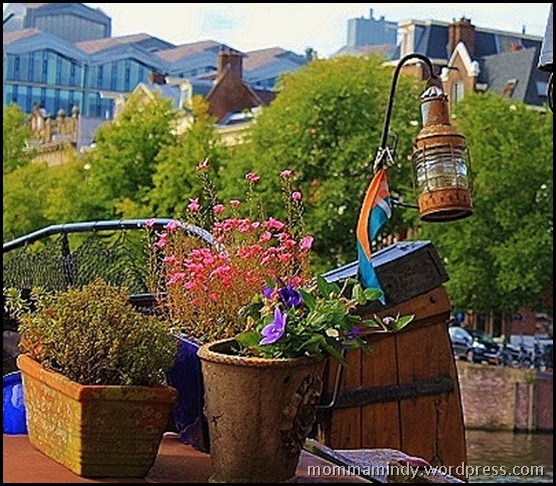 Not only did I love the wooden shelf on this boat, I LOVED the light fixture.
I almost wanted to knock on the door and ask for it.
But, that's kinda rude, right?
Right?

I seriously coveted this crate.
It just needs to be filled with stuff I bought at the second-hand store.

Aw, SWEET!
I kept thinking, "I could totally make that!"
It's just a coupla' boards and a coupla' nails.

These benches should be in my garden.
They didn't fit in my suitcase,
even though it was the biggest one Target sold.

They even have pallets in Amsterdam.
I wonder if they have women like Donna from Funky Junk Interiors in Amsterdam.
She's the Queen of Pallet Wood.
 
My mom and dad created a bathroom sink out of a wooden barrel once,
and it was darling.  They used a stirrup for a towel holder,
nailed a few horse shoes on the wall,  and mom sewed a bandana shower curtain.
Maybe that's why I'm still so drawn to barrels.
Besides, when I look at that table,
I know I could totally make that.
We bought lunch at Albert Heijn, Scott and I sat in a window sill and ate lunch.
Right on the street.
Like tourists, I'm pretty sure.
This was in the window.
They weren't using it.
I could think of a hundred uses for it.
What a waste.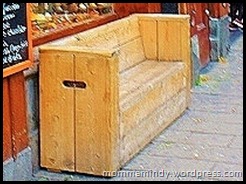 Can't decide if this would be comfortable or not,
but I didn't bring it home,
so I guess the question is irrelevant,
but I'm pretty sure
I could totally make that.

I used to have old wood folding chairs. 
More things we left behind in one of the moves.
Guess I would seriously look like a hoarder,
if I hadn't moved three summers in a row and had to get rid of
tons of stuff with each move.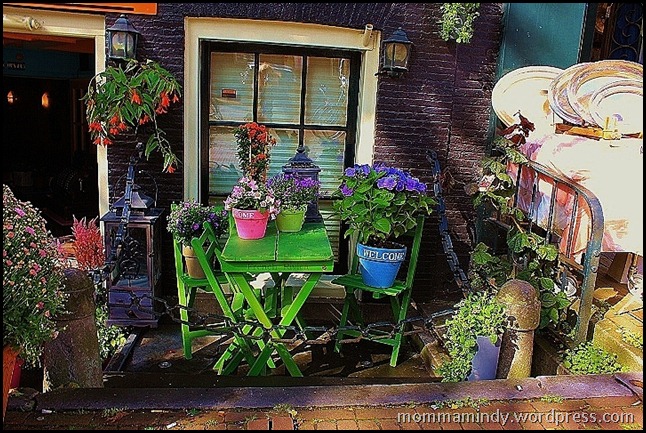 Gray, weathered wood is my favorite,
but this green table with colorful pots almost made me wanna' buy paint.
Almost, but not quite.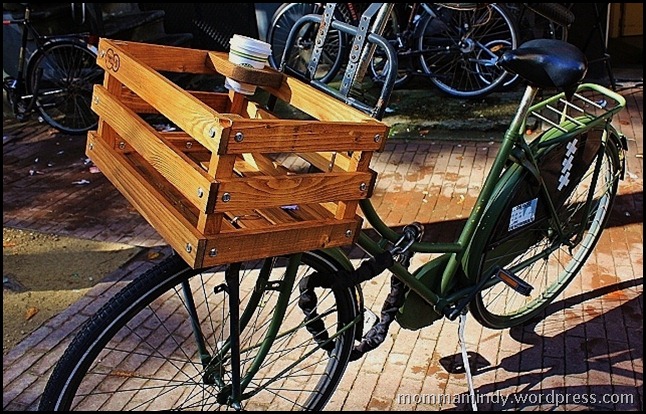 Now, THIS bike HAS to belong to an ex-pat from Seattle.
Our grocery carts have little coffee holders in them,
because our grocery stores have coffee shops in them.
Our grocery stores also have coffee shops next to them,
around the corner from them and behind them.
We love us some coffee in Seattle.
This was in a store window, but since hubby was walking ahead of me
and didn't notice I had stopped, I didn't have time to figure out
what it is and
what it's for.

I didn't see any other furniture, or enough art to make it a gallery,
but here's another piece
that made me think
"I could totally make that!"
If I ever make all these cool things, 
THEN
you'll see me on Pinterest.