In a big family, you're rarely alone.  Every corner of the house is filled with someone.
Big families usually practice  "the more the merrier," so others are gladly welcomed into the home.
The noise carries through hallways and doors. Even  happy, laughing noises can fill the ears and jumble the brain cells.
All my kids, even though they love their family, experienced times where they craved solitude. Even the youngest one learned to understand her limits and create a personal boundary.
If solitude wasn't readily available, creativity came into play.
Several years ago, the chaos of Vacation Bible School planning and company was too much for Beka.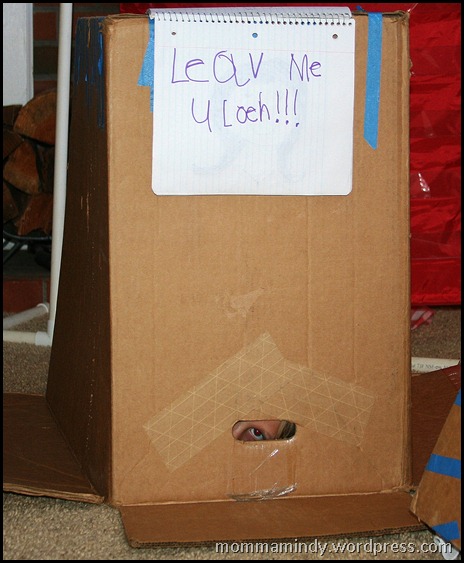 Solitude created.
As adults not likely to hide under a box, we should remember this childhood coping skill of marking out  territory to be alone with our thoughts.
We all know the Lord Jesus exampled this in His life. We all know we should do it. We just aren't sure if we could.
What if the world stops spinning because we're not spinning at the same speed?  What if the sky falls because we aren't holding it up with our ambition and activity?
We think our generation invented busyness, but two thousand years ago, people were also working through lunch.
Mark 6:31, "And Jesus said to them, 'Come away by yourselves to a secluded place and rest a while.' For there were many people coming and going, and they did not even have time to eat."
Read your own body language. Is it time to get off the gerbil wheel and feed the soul?
Are relationships being affected because you're consumed with tasks?

Are you so busy serving the Lord, you're not spending time with the Him in the Word and prayer?

Have you shown more impatience and frustration?

Is your health being neglected?
Seclusion  and stopping activity aren't enough, but start the process.  Being alone in the presence of the Lord is what renews our body, soul and mind.
Yea, we all know this, we don't all do this.
Solitary place,
slower pace,
refreshed by grace,
happy face.
And if you're still having a hard time creating the spiritual solitude you need, I have a cardboard box I can loan ya'.
LINKING UP HERE: