It was going to be a simple plan. I would make 2-3 batches of quick bread for the freezer, something I used to do in about two hours time. I thought I would be done by lunch. We have a busy weekend coming up with company and a special one day Bible conference on the Tabernacle at our fellowship, and I needed to start the week by attacking my To-Do List.
I think I got attacked.
Starting with my traditional Kirsti's Cranberry Bread recipe, the first ingredient caused trouble. Not only was my newly filled flour container almost empty, (it holds 20 pounds), flour was spilled all over my cupboard. I vacuumed it up.
My sifter wasn't working very well. Someone was trying to be helpful and washed it. To add insult to injury, they put it back in the flour bin slightly wet – wet enough to form a hard residue along the edges. I pried out as much as I could and got the sifter to work slightly better.
I had to fill the sugar cannister and wash the outside. Someone had grabbed it with cookie dough all over their hands and it had hardened into tiny mountain ridges.
I managed to quarter and rinse the cranberries and add the rest of the ingredients. I was humming along at a clumsy pace, until I realized I could only find two of my four mini muffin pans. Of course, none of the kids knew where they were.
This little nagging thing razzled my brain until I pulled the bottom drawer of the stove out all the way.
There they were! I wasn't sure if I wanted to retrieve them.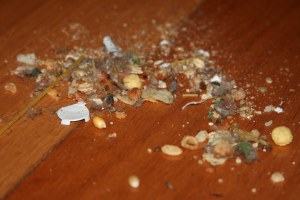 Do I still believe the kids use a dust pan?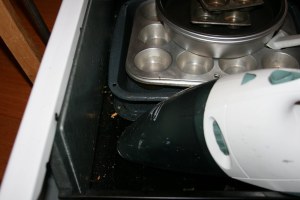 Had to vaccuum out the drawer while I was down there.
When I tried to grab the muffin papers, this is what I found. Another mess to clean up.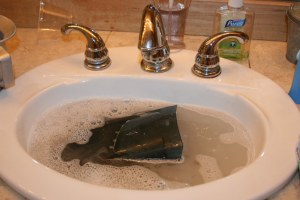 When I was done with that and went to empty the hand vacuum, I realized someone had vacuumed up something ooey, gooey and white….
like bird poop?
butter?
do I want to know?
I had to soak the vacuum and go back to bake my muffins.
By the time I got them in the pan it was already past 1pm.
By 2pm I was almost defeated, but determined to start and finish Whole Wheat Banana Bread.
I pulled the last loaf out around 5pm.
I used to think it was because I have been sick
and I am tired
and out of practice
and my brain is fuzzy around the edges
and I am aging
and I am forgetful
that it is so hard to function in the kitchen.
Sometimes, I just plain ol' forget there are six people in this house cooking.
Six people using supplies.
Six people using all the utinsels.
Six people messing up the stove and fridge and counters and cupboards.
Six people makes twelve hands.
That's a whole lotta mess-making, I kept grumbling to myself today. It was a challenging day. It was like peddling your bike when the chain has fallen off. A lot of motion, but you just don't get anywhere.
But, that's also five other people creating and cooking and tasting and giggling
-usually for me-
-so I don't have to-
-to surprise me-
-to encourage me-
-to help me-
So, why didn't I remember that today, instead of just now when I am blogging about my frustrating day?