The first time I met Craig Johnson I was in a public library looking for a new author to binge read.
So, it was by accident that I fell in love with Johnson's character Walt Longmire, the sheriff of Absaroka County.
I couldn't get enough of the series, as Walt took on poachers, murderers, rapists, racists, and abusers using his humor, brains, and occasionally his gun. Oh, and he wears cowboy boots, lives in Wyoming, and travels to Montana on occasion. Johnson describes scenery so uniquely you may swear you've never seen a sky, sunset, or sagebrush until you visualize it through his lyrical descriptions.
After losing sleep over many plot twists and surprise endings, I discovered his books had been turned into the series Longmire on Netflix.
Another addiction.
More sleep lost.
I watched every episode of every season.
Then I introduced Walt Longmire to Mr. P and watched it over again, enjoying my hubby's reaction. Then we watched the entire series together again. Twice. Maybe three times.
The second time I met Craig Johnson was when he released his 13th book and scheduled an author event in the area. I went and dragged along Mr. P.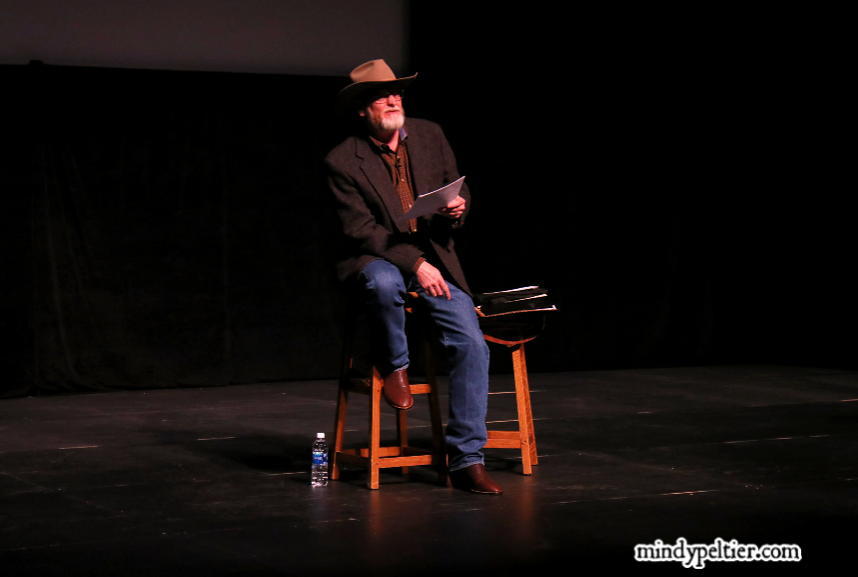 Johnson commanded the stage surrounded by fans primarily addicted to his written work. We admire his ability to use twenty-six letters to create a world of wilderness beauty where Walt overcomes evil with the help of his best friend Henry Standing Bear.
He began with a boast. "I am the most famous author in Ucross." His hometown has a population of twenty-five. In case you can't do the math, that's only twenty-three people other than he and his wife.
When Johnson first dreamed about becoming a novelist, he ran into two DCI agents who were investigating in Wyoming. He asked them how long it actually takes to get DNA tested.
"In a high profile case, about nine months." Nine months, not nine weeks, or nine minutes, or even nine seconds. Nine months.
Johnson decided to be more accurate than current TV shows. We've all seen a cop find a cigarette butt and get the DNA result back faster than we can run to the kitchen for a snack.
Next Johnson needed to know how a rural sheriff would process a homicide. A chance meeting with the cowboy sheriff of Johnson County, Larry Kirkpatrick, allowed him to pick the sheriff's brains enough to finish a few chapters.
He shoved them into a drawer and then added on to his house.
And built a barn.
Then a shed.
And rebuilt his wife's business.
"The two cold lonely chapters of The Cold Dish stared at me for nine and a half years," Johnson admitted.
He was filling up his gas tank one day and spotted a cruiser. Sheriff Kirkpatrick recognized him from their ten-minute conversation nearly ten years prior.
Kirkpatrick pushed his Ray-bans down, crossed his arms, and said, "Your book's taking awhile."
His comment sent Johnson back to those two lonely chapters. He later gave Kirkpatrick the manuscript to review. The next morning he heard a  sound rarely heard at his ranch in the country – police sirens and a a police car sliding on his gravel driveway.
Kirkpatrick had read the first chapter of the book. "I know who did it!"
Johnson sent him home. "He was wrong."
After the second chapter Kirkpatrick called. "I  know who did it now."
He was wrong again. He guessed after every chapter and never got it right. You can read more of Kirkpatrick's charming story here. But, this proves Johnson's proficiency with plot twists.
And when Johnson finally finished that first novel it won several awards. He kept writing and winning awards. Then A & E picked up on his brilliance and produced three seasons of Longmire.  Even though it was the highest-rated original drama series of all time, they dropped it. Netflix picked up the fumble and continued for three more seasons.
Johnson is loyal to his local people, his supporters, and his fans. He often speaks at the public libraries scattered across Wyoming for only a six-pack of his and Walt Longmire's favorite beer,  Rainier. 
Two weeks after Longmire series was launched, Johnson spoke at a library. When the librarian presented him with his Rainier beer afterwards, she explained how challenging it was to find his favorite beer. The stores and distributors were running out of Rainier. Johnson called Rainier's National headquarters and they confirmed the beer shortages saying, "We have no idea what's going on."
Everyone else knows what's going on.
[Tweet "Craig Johnson has created a character so likable, believable, and admirable, that everyone wants to be like Walt Longmire. @MindyJPeltier"]
Men across America are buying cowboy boots, cowboy hats, and drinking Rainier beer. Walt is so admirable, Johnson's dad is sure the character is based on him.
Johnson said the popularity and the longevity of the Longmire series is because he created characters that had many stories to tell.
The author had the unique privilege of watching the DVD auditions during the casting of Longmire. Robert Taylor presented well and has a face and voice that speaks of experience and baggage, like Walt.
But one action ranked Taylor above the other talented actors.
In the pilot's opening scene Sheriff Longmire must inform a woman that her husband is dead. Taylor entered the woman's home, removed his hat, and placed it over his heart. This knowledge of cowboy hat etiquette sealed the deal.
Johnson's wife Judy said of Taylor, "He's a good-looking TV version of you, but taller and better looking."
Lou Diamond Philips was also an obvious casting choice. He had read several of Johnson's books prior to his audition, so was the only actor who spoke without contractions, like the character of Henry Standing Bear.
During the Q&A, someone asked about the decision to cast Philips as Standing Bear. In the books, Standing Bear is a huge man, but in the series, he's shorter than Walt.
Johnson explained that Philips is a big man at six foot tall and has an athletic build, but, "Taylor is a moose!"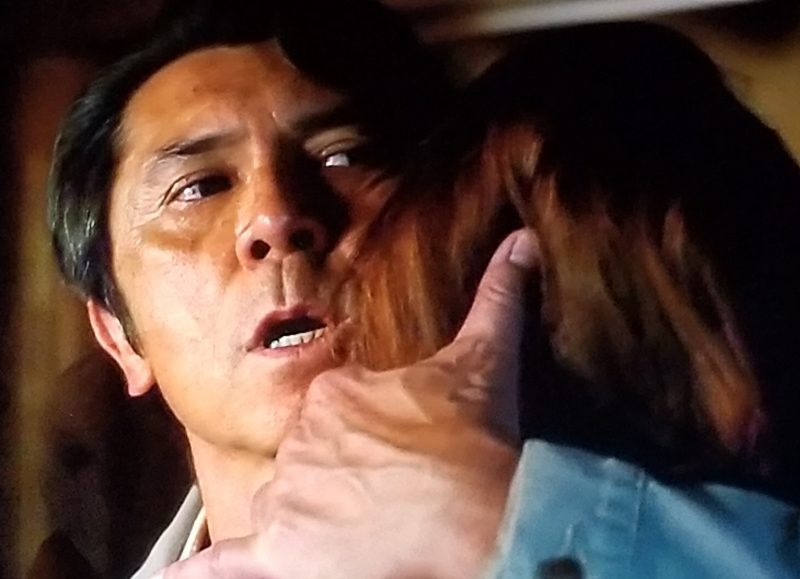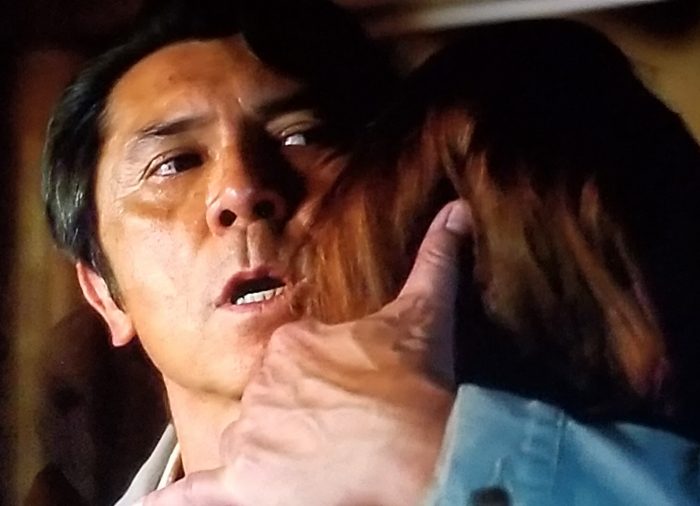 Philips portrays Standing Bear as the loyal friend we all wish we had.
Walt Longmire isn't admired only for his strength, but for his strength of character. He's a widowed man with an adult daughter named Cade, played by Cassidy Freeman, who's trying to make her own way in the world as a lawyer. Walt has his demons from serving in  Vietnam with Standing Bear and the circumstances surrounding his wife's death.
But Johnson said he gave Walt Longmire three secret weapons.
A sense of humor. (This is only one of the reasons you gotta' read the books.)
He's a reader who remembers what he reads. (It helps that Longmire has an English Literature degree from University of Southern California.)
He decently cares about people. (Even though the sheriff is an elected official, Walt is not a politician.)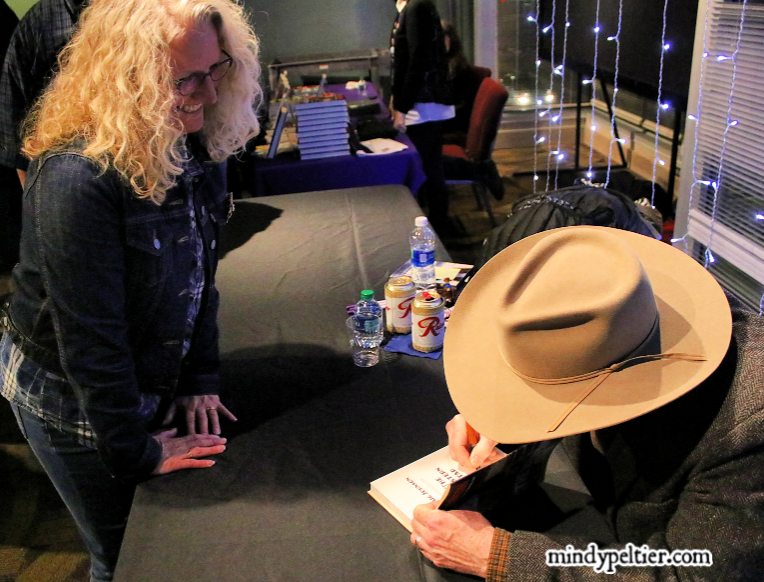 Craig Johnson has Walter Mittyed himself into the character of Walt Longmire because they have a lot in common.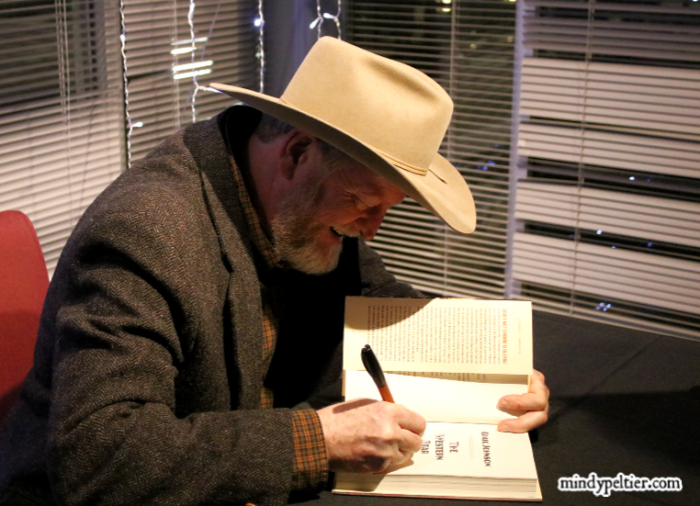 Johnson has a sense of humor and is a mesmerizing speaker.
He's an avid reader and faithful supporter of other writers.
He cares about people. During the book signing, he visited with each fan, signed their books, and posed for pictures.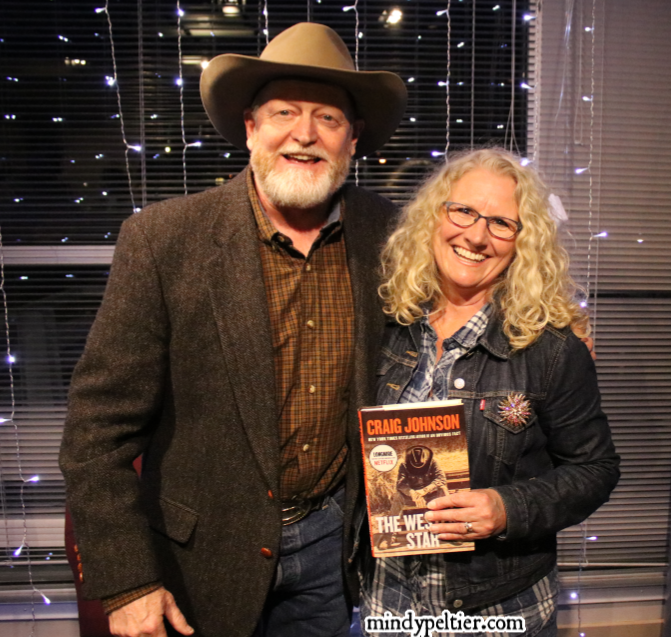 Look at #fangirl me!
Even though it took nine and a half years, it's a good thing Craig Johnson took those lonely chapters out of his desk drawer and gave the world Walt Longmire.
Are you procrastinating on a dream?
Revisit it.
The world needs your gift.
As for me?
My autographed copy of The Western Star is now my writing inspiration. Since I met Craig Johnson he's written two more novels and I've finally finished this blog post and almost finished the first draft of my novel.
[Tweet ""And if a girl can dream, the next time I meet Craig Johnson, I'll autograph my book for him." @MindyJPeltier"]