I love to honor Vietnam Vets.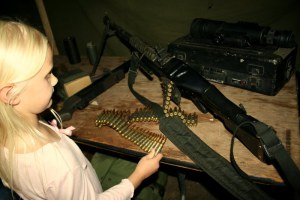 We casually touched weapons that had been hauled through dark, bug-infested, enemy-hiding jungles.
Weapons that had to kill before the handler was killed. We grieved for all that suffered during the Vietnam War.
As these men were talking, my heart rejoiced that they were alive and well.
I get angry when I read about the treatment of the Vietnam Vets when they returned home.
The war never ended for them.
I wanted to throw my arms around the them and apologize for my country, but instead, I shyly smiled and prayed for them as I passed by, unable to express what was truly bursting in my heart and mind.
At times I felt I shouldn't intrude in others' grief. These were their sons and daughters, their friends, their spouses.
My tears weren't because the names belonged to anybody we knew, but because I felt the pain all around me.
I  felt like throwing myself down and sobbing my heart out, but didn't. Instead, I blinked back the tears, took pictures, and shared the passion I felt over this monument with my children.
These Vietnam Vets will never bring bouquets to wives, mothers, or sweethearts.
Instead of life and love, these bouquets smell of sorrow and death. Bouquets brought because pain makes people want to DO something.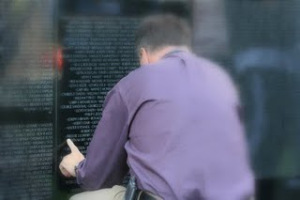 Instead of caressing loved ones' faces, fingers trace only their names etched into black, cold, lifeless marble.
Yet, everyone is thankful, wonderfully thankful, grief-strickenly thankful, that at least there is something of the loved ones to touch.
Even if it is just a name etched into
……….cold
                    ……….black
                                        ……….lifeless
                                                                 ……….granite.

The shadows are reflections of the men and women who should be standing there.
An estimated 58,000 lives were lost during this war. For each life lost, dozens back home suffered wounded hearts, empty lives, and endless pain.
As with every war, the lost of these young lives  left holes in generations.
Kids grew up without daddies, fiancés were never married, mothers and fathers never became grandparents.
I was a kid during this war.
My fifth grade teacher, Mrs. Hayes, made us watch a documentary about Vietnam. I was acting up and complaining so loudly, she stopped the big-reeled machine and chewed me out.
She thought I should be paying attention because these were AMERICAN young men, people's neighbors, people's sons. My initial embarrassment for being singled out was replaced with the shame of my indifference.
I share my passion and my compassion with my children, hoping that they will be influenced, as I was, to have an open heart and mind for those suffering around me.
We will have holes in this generation, too.
But, maybe, we as a nation, will welcome home the vets the way we should have in the 70's.
The traveling, grim, marble memorial should and can be the reminder we need to keep history from repeating itself.
Welcome Home, Vietnam Vets.