When I got married, I thought I married a highly intelligent, wonderful man who would function well in life.
I was wrong.
Totally wrong.
As soon as we returned from the honeymoon I learned  my husband lacked intelligence in some areas. I had promised to love and cherish, and my wedding vows were soon tested.
He actually thought the couch pillows were for his head. He would lie down for a nap on the couch, grab one of my new ruffled pillows,  put his head on it and think he was going to take a nap.
Can you believe that?
Thinking pillows are for heads?
He also proved his lack of intelligence in the bathroom.  He actually thought the rug next to the shower was to step on when he got out of the shower.  DUH.  It gets wet and it doesn't always dry out. It took me years  before I finally taught him to dry off his feet before he got out of the shower and stepped on the rug.
You would think that men would at least be good with mechanical things in the house, like appliances.  My husband actually thought he could put dirty dishes in the dishwasher.  I had to teach him how to scrape them and rinse them and then put them in the dishwasher.  Of course, he never could figure out how to put the stuff in the dishwasher, tall cups on the right, short cups on the left, coffee cups in the middle.  On the bottom, plates in the front row, 8 facing east, 8 facing west, meeting in the middle.  Along the edges you fit cutting boards and platters.  Bowls can be tucked neatly together in the back row of the dishwasher and misc. items between the rows of plates and bowls.  After he says "it's full"  I can fit another sink full of items in there. 
Whoever taught men to place spatulas and utensils on their side in the upper rack?  You could fit six glasses or one spatula.  I choose six glasses.
My husband also has a hard time putting things away in the kitchen.  To me, it's obvious.  We have a corner cupboard just for items to drink from.  The bottom row is glass drinking glasses, short clear on the right, short green in the middle, tall clear on the left.  The middle shelf is coffee cups.  I prefer to have all the handles facing to the right, but I am flexible on that point.The top shelf is stemware, clear on the right, gold on the left.   Easy-peasy puddin' and pie.
BUT NOOOOOUHHHH!  He just opens the cupboard door and randomly shoves stuff in there.  I can just hear the reasoning, "Hey, they're all things you drink out of, so I got the right cupboard!"
Do you know how hard it is to set the table when you want to use all the short green glasses and you have to rearrange the whole cupboard to find 8 that match?
He also had the audacity one night to set the table with two green glasses, two clear, one taco bell cup, one leftover sippy cup that got lost for a decade 'cuz it was in the wrong cupboard, and two 7-11 Slurpee cups. 
Speaking of dishes, once he served our daughter, who was two at the time, her morning cereal in a serving bowl with a tablespoon.  It looked like a scene out of Honey I Shrunk the Kids.  He's ridiculous!
But you know what shows his greatest lack of intelligence?  Choosing a woman who is so finicky, she  needs to live on her own planet.
       mAkInG fUn Of mOm                                              What About That Toilet Seat?
Scott and I joke about becoming comedians so we can get paid to make fun of each other. Read the above posts so when this dream comes true you can say, "Hey, I knew those guys before they were famous!"
But, the spirit of the laughing at each other is to prove that even those irritations in a marriage can be used to STRENGTHEN a marriage instead of TEARING it down, if you learn to handle them quickly. 
Laughter is always a good option.  Forgiveness is  a better option.  Changing habits is a good option.  Accepting and loving when something  isn't changed yet is a better option.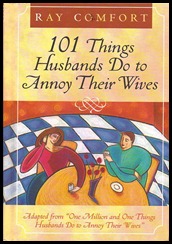 I respect Ray Comfort.  He has publically acknowledged how annoying husbands can be.  He also gives good marriage advice.
Marriage Resolutions from Ray Comfort:
Never mention the word "divorce" during an argument.

Vow not to let your emotions lead you to say things you will regret.

Learn how to say "I'm sorry."

Be aware of your own faults.

Agree never to argue in front of your children.

Don't let the sun go down on your anger.
Writing Contest
So, in honor of annoying husbands, I am giving away the above book free in a writing contest.  Leave entertaining comments below about something annoying your husband does.  This is not actually a husband-bashing contest, write in the spirit of making fun of the demands or expectations wives place on husbands. You may enter more than once.  It's Monday.  We need a few laughs.
A random committee will choose and announce the winner whenever I remember on  Monday, April 22nd. That random committee may or may not include any random people sitting on my couch at that moment and may or may not include random people walking their dog in front of my house on Monday morning. 
Oh, your comments may or may not be used in random blog posts in the future.  Just warnin' ya.