The curse of the crooked rocks isn't a Nancy Drew book. These are sad but true tales from my childhood.
It was the summer of 1976 in Helena, Montana. The twenty-some kids from the Townsend Avenue neighborhood spent their summer days riding bikes, swimming at the city pool, and playing baseball. If we kids fought it was usually over choosing baseball teams. We didn't know we were latchkey kids. We were just very, very happy.
The days were hot and the bright blue sky was usually dotted with puffy, shape-changing clouds. The sky stretched across the entire world, proving Montana's nickname, "Big Sky Country." People were kind, candy was cheap, and our parents were at work, so life was good.
The Curse of the Crooked Rock
My little brother Allan was playing in a neighbor's yard. I saw him running home in a panic. Red from heat and fear, my little brother held up his trembling hand with an ugly, crooked rock resting in it.
He told me he'd found this rock in the neighbor's front yard. We'd picked enough cool rocks at Canyon Ferry Lake so it was easy to spot an ugly rock. The rock had no stripes, unusual colors, or flecks of fool's gold. The boomerang-shaped rock was so ugly, he was compelled to throw it out of his sight.
Remember, we kids played hours of baseball. Any neighborhood kid could've thrown the starting pitch at a major-league baseball game better than the woman who hit the photographer.
He heaved-hoed
and
the
rock
sailed
through
the
neighbor's
plate
glass
living-room
window.
He'd retrieved the rock from the neighbor's living room and rushed home. We stared at the ugly rock and knew it was to blame. My innocent brother must be protected and I had to get rid of the evidence.
I cocked my arm with every intention of sending that rock into kingdom-come. Since I was two years older, I knew I could sail that baby so far it could never be found.
The slo-mo memory is etched in my mind.
With all my might, I hurled that possessed rock
right
into
the
side
window
of
our
house.
NO WAY!
To this day I still can't figure out how that happened. I wasn't even facing the house.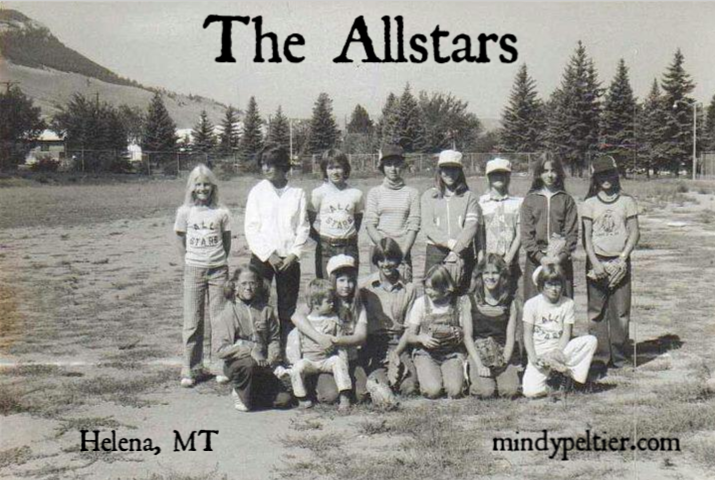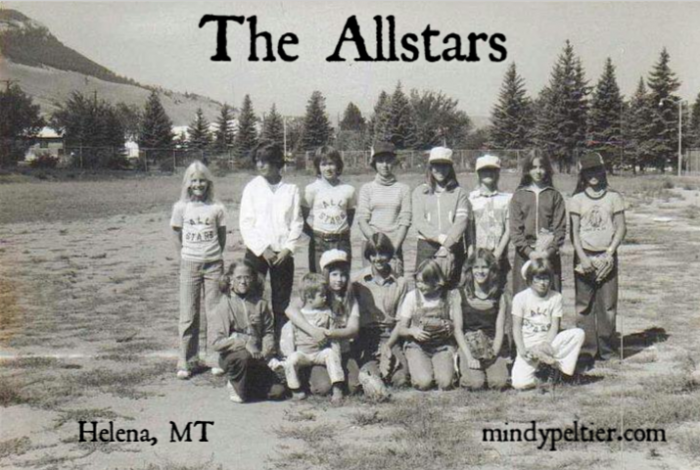 Besides, I was the first-base player for the Allstars and named Best First Base Player for the city of Helena.
The gaping hole surrounded by spider cracks mocked and taunted our athletic prowess. Now we had two broken windows and two sets of parents to deal with.
There was nothing to do but tell the tale of the horrible, ugly, possessed crooked rock to our parents. It really was the rock's fault.
Our Daddy must have believed the curse of the crooked rock. He bought a piece of glass, measured it perfectly, cut it, and fixed the window. I don't remember what we did about the neighbor's front window.
I'd like to say that this disaster cured me of my rock-throwing habit, but I cannot tell a lie.
The Curse of the Second Crooked Rock
Later that summer, I was babysitting my two younger sisters. Daily I fed them, dressed them, and fixed their hair. After Susie Jaeger disappeared, I was especially terrified about their safety. The Little Girls sometimes annoyed me, but I didn't want them to be tucked into a van and stolen away from our happy middle-class family.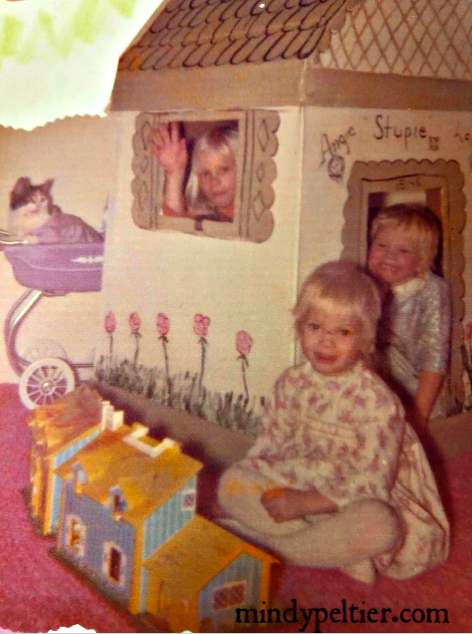 Most of the time things went well. We played fort, Barbies, raft, and Pay Day. I would take them to the park or hike Mount Helena. Those are the good memories.
But, like normal kids, the Little Girls could have moments of stubbornness. At these times, no matter how much I yelled and fussed, begged and bribed, it was hard to get them to comply.
One sunny morning, they ran out the back door to get away from me. I yelled, hollered, and threatened, but they kept running. In unmatched clothing, they ran down the street with their stringy, blonde hair flying behind them. I was only eleven but knew you don't go out in public looking that way. They were in danger and looked like the original motley crew.
My threats failed to get results so I yelled, "STOP!" That also failed.
I picked up a crooked rock with a perfect finger-sized notch to add some torque to my toss. My plan was to scare them.
When they paused at the corner by Mr. Beaver's house, waiting to cross Lamborn Street, I hurled my weapon.
I can still see the slow-mo. My sister Laurie turned around. Her cute, little face was covered in thick, pointy black glasses, the only kind available to kids at that time.
My crooked rock hit the target.
She screamed in pain and raised her hands to her face. For a split-second, I was impressed with my toss. It was like the centerfielder throwing the runner out at home.
When she pulled her hands down, there was blood on her fingers.
Shame washed out my foolish pride. I dashed to the corner, yelling, "I'm sorry! I'm sorry! I'm sorry!"
It worked. My little sisters followed me back into the house and allowed me to clean them up, fix their hair, and dress them in matching clothes.
To this day my sister bears the mark on her face of that toss of a lifetime.
Despite these two incidences, I still grew up with a fondness for collecting rocks. Each time we move, there's always a huge load of rocks. There are special rocks that commemorate friends' farms, a dying friend, and a soldier friend's stint overseas.
But, one ugly crooked rock would wreak vengeance for my childhood follies.
The Vengeance of the Third Crooked Rock
We were in Helena for a glorious summer vacation. My hubby, Mr. P, drove my parents' ancient pontoon boat to Cemetery Island in the middle of Canyon Ferry Lake for a picnic. Of course, I had to pick rocks. I was collecting flat rocks to embellish with vintage doilies.
I found a flat rock with a crooked stem that made it look like Idaho. When I was carrying it to the pontoon boat it slipped through my fingers.
Cue the third slow-mo rock show.
It slid down my leg and scalpeled a three-inch incision near the ankle. The cabin was at least 30 minutes from the hospital. We were at least 20 minutes from the cabin. I calmly rinsed the cut in the lake to make sure there wasn't gravel or dirt in it. Then I hobbled to the pontoon, wrapped my leg tightly in a towel. I instructed my young daughter, Rebekah, to put pressure on my leg and other basic principles of first aid, hoping she wouldn't be scarred for life. Mr. P rushed to the boat.
It wouldn't start.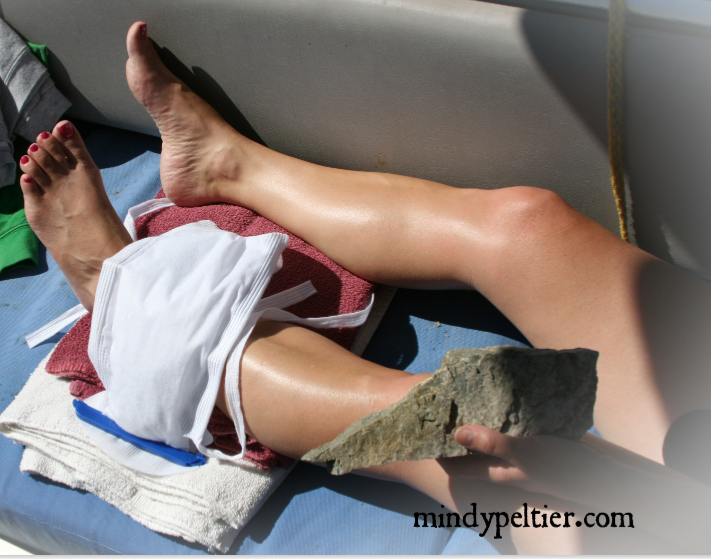 I'm bleeding to death and sure I'm going to die in front of my daughter and husband.
Because of a rock. I kept it because I had to.
After fiddling and jiggling with the finicky motor, my husband got the pontoon started. I'd like to say we rushed to the cabin, but a twenty-year-old pontoon boat only putzes along.
Mr. P drove me to St. Peter's Emergency Room for stitches.
You'll be happy to know my scar is at least twenty times as long as my little sister's scar.
And that is how the Curse of the Crooked Rocks was broken.