A miracle doesn't happen only on the Hallmark channel during Christmas. Miracles still happen in real life.
Christmas 2004 found our family of eight in a challenging place. We'd been transferred from Fargo to Seattle the previous summer. Though we'd received a 15% cost of living raise, the cost of living increase was closer to 50% and my husband's salary as a manager was less than starting salary. Grocery prices almost made me cry.
The burden was increased because the house we left behind hadn't sold. We rented a 4 bedroom home in a cul-de-sac filled with a few stay-at-home moms and wonderful people, but the fair rent from the West Coast seemed exorbitant in addition to our mortgage.
Thrift store prices were very high and the rare garage sales unorganized and overpriced. There wasn't a dollar store near us.
My hubby adjusted to the frantic new pace of the West Coast office. No more Friday afternoon meetings on the golf course or lunch meetings. They'd meet during lunch without food. I adjusted to the traffic and planned my errands around not making a left turn.
The tension in our lives increased at a rate of a roller-coaster. My first week here a woman named Shannon backed into my Suburban, begged me to not call the cops, then invited me to M.O.P.S.  Fresh from the Midwest I agreed to let the light bumper damage go. She went home and called the cops. I was charged with leaving the scene of a crime and paid for all the damage from her previous accident.
A few weeks later a man backed into my parked Suburban at full speed, launched it across two parking places, then claimed I hit him. Wiser to West Coast ways, I sought out witnesses and was able to prove he'd hit me.
In October my chiropractor found a lump on my neck and I started the nine month process of finding doctors willing to take new patients so the invader could be diagnosed.
Despite all the challenges, it was a year filled with faith and adventure. The beauty of the Pacific Northwest begged to be explored. On Saturdays we'd pile into the car with snacks and just drive into the country to see mountains, waterfalls, and rivers. The mild weather was such a relief from the blizzards we'd left behind, we wore flip-flops and capris all winter. Museums and art galleries were an occasional treat when we could afford them. The three older kids jumped into high school sports and activities and did very well. I homeschooled the younger two and kept the toddler happy. We had many visitors from the Midwest who joined us in our explorations.
Although it could have been a very dark time for our family, the Lord proved Himself faithful in so many ways, we look back with fondness and thankfulness.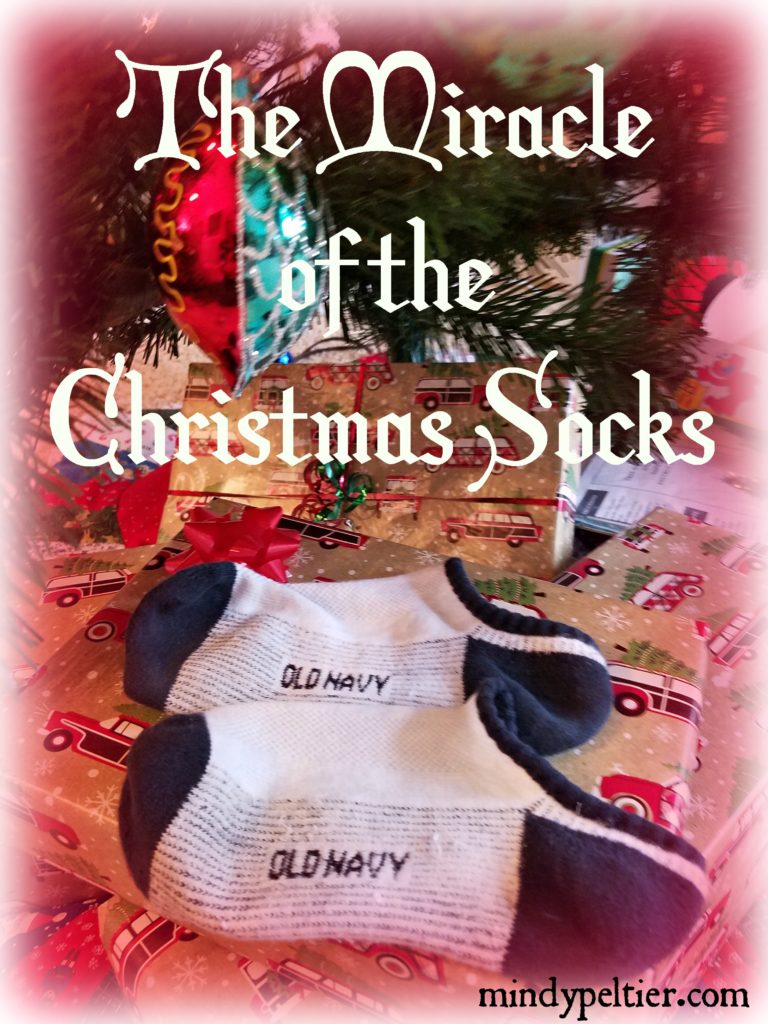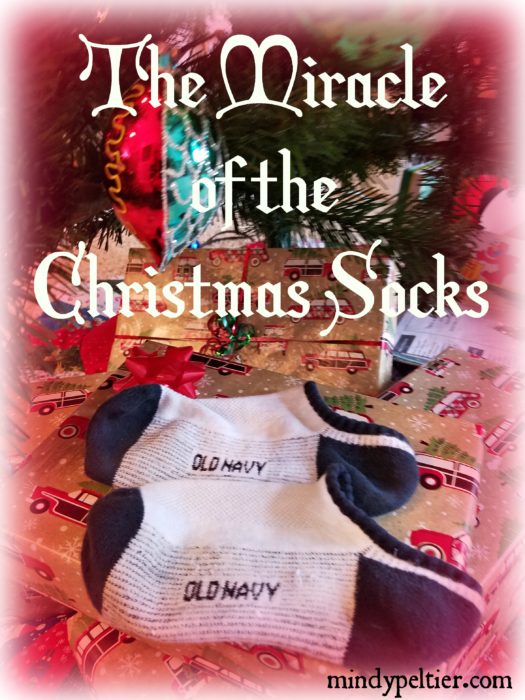 We especially love to relive the miracle of the Christmas socks.
By December we needed more than presents, my kids needed new clothes. Keeping six kids in socks and underwear has been a challenge in our family for several generations; my mom has a small pair of undies with the word "sugar" on the rear to prove it. I have a pair of my Gramma's darned stockings in my laundry room to prove it. The need for clothes was especially challenging since four of the kids were teenagers.
We hit the local mall with a bit of reservation, bringing along Bre, who was visiting from Minnesota.
In the Old Navy clearance we hit pay dirt. Jeans were $7 and shirts were $4. My teens each found jeans they liked, a miracle in itself. Some of the shirts were too big, but the girls decided to take them in.
On one end cap I stopped in disbelief.
Socks were $.99. Not for one pair, but a package of three. They were thick white ankle socks edged in color. Bre grabbed a few packages and I grabbed the rest. We ended up with a Santa-sized bag full of clothes for around $50.
The socks were a sermon. As we dressed each morning, we'd look at our feet cozy in bright white socks and giggle at the Lord's provision. If He cared and provided for our toes, He'd surely care for the big trials we faced.
The socks held up through track season. They held up through numerous washings and occasional bleachings. They held up while running through the house and outside into the back yard without slippers. They held up through a summer at Bible camp, where the iron water often ruins clothes and blonde hair.
That summer we bought a home and moved away from the neighborhood, leaving behind better friends that we had in our Midwest neighborhood and the Old Navy.
We drove back to Old Navy many times looking for the socks, willing to pay regular price for something that wore so well. We never found them again.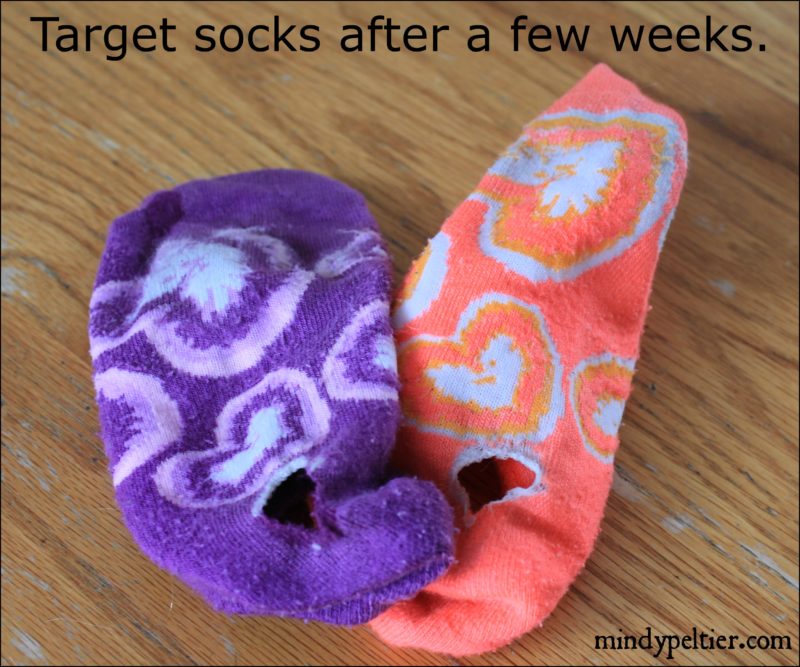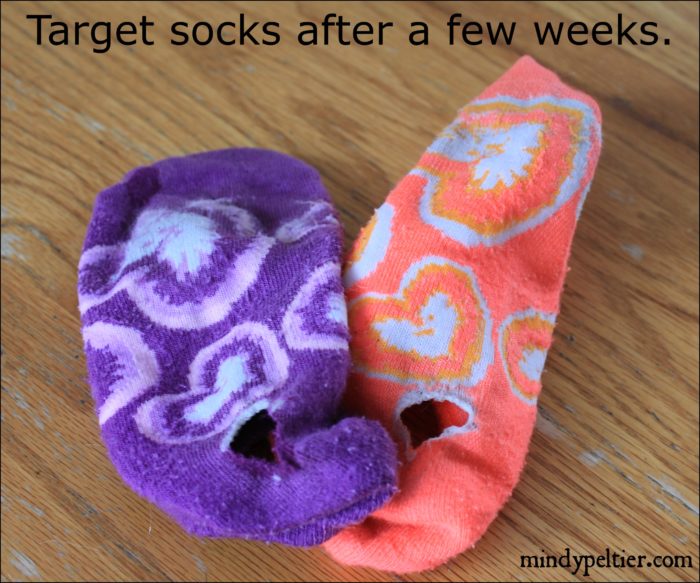 We've never found any that lasted even half as well. Like most things made today, socks are now disposable.
The socks were the closest thing to the miracle of the widow's oil I've ever experienced. Our Old Navy socks never seemed to wear out.
It took years before a few of the socks got holes in them. Most of them ran away, as socks are known to do. Often when we girls got together, we were all wearing our Old Navy socks. We'd look at our cozy toes and reminisce about our first year out here.
As my daughters and Bre wore the socks into their adulthood, they had a constant reminder of God's providing hand in their new lives.
Our oldest daughter moved out in 2006 with her socks and still had some until her last move in October when she decided to finally purge.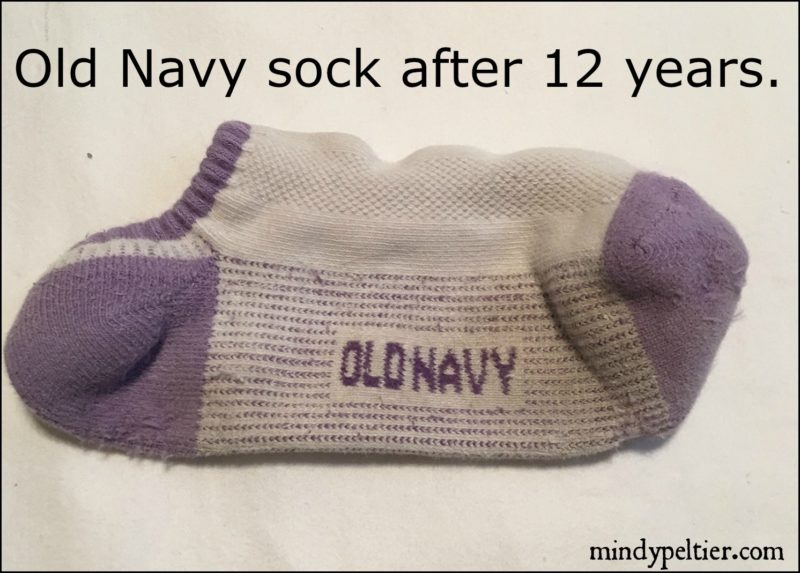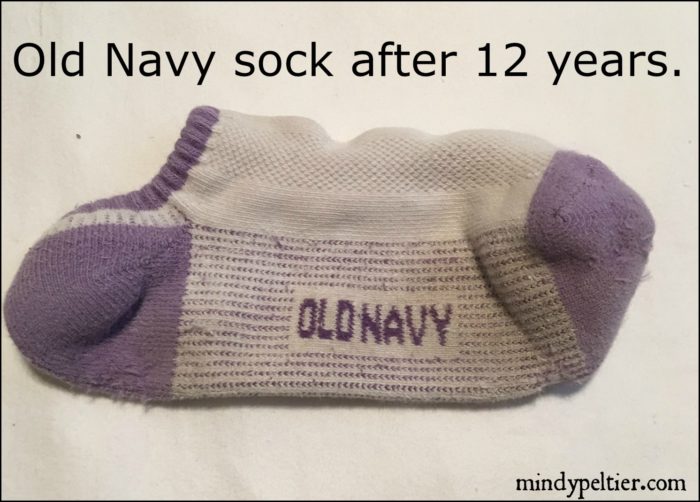 Daughter Bethany is down to one sock she keeps in her sock drawer as a special reminder that the Lord answers prayer.
The socks have been a cozy and enduring reminder of the Lord's gracious provision and presence during a hard year of transition for our family. Transition into a new school and work environment. Adjusting to the traffic and the people of the PNW. Finding ways to feed and clothe the family on a limited budget as in the early years of our marriage. Parenting four teenagers at the hardest stage of their growth. Most of all, adjusting to my thyroid cancer diagnosis and the next ten years of treatment.
Whenever we need a bit of encouragement, we sit on the couch, put up our feet and remember how the Lord has carried us through one of the toughest years of our lives.
God still performs miracles.
We have the socks to prove it.