I love writing them out.
I love checking things off.
I love rewriting the lists when they begin
to look too sloppy to be inspiring.
Most of the time, a list works for organizing my life.
Sometimes, I use several lists on a clipboard~
~like ~
Things To Do
Things To Buy
Things To Cook
Things To Pack
Preparing for a a Graduation Open House
sent me way past the usefulness of
Clipboard With Lists.
I went for the Big Gun I named ~
.
Using a huge tray from IKEA,
I first wrote out days of the week on Post-It notes
and stuck them across the top.
You can see why the pressure was building,
I only had five days left,
and many, many, many things to do.
Each task to complete or item to buy
was written down and placed under the column of the day
I thought it should be done.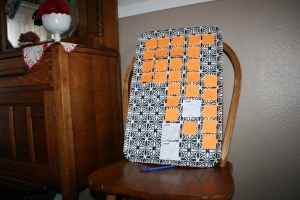 The white notes were mini-lists,
like all that needed to be cleaned in the dining room
and other things I don't remember,
and the print is too small on the picture to read.
Double-click on pic if you care what I was doing.
When a chore was completed, it was crossed off
and labeled with the name of the hero that completed the task.
At the end of the day,
uncompleted tasks were moved over to the next column.
By the final day, only a few things had to be eliminated
from the list because we couldn't get them done.
Because the whole list was in view for the entire family,
everybody knew what needed to be done
and what they were capable of doing.
It also kept me from nagging and brought peace in the house.
Even my Type B "I'll-Do-It-Tomorrow" hubby
enjoyed completing a few tasks and crossing them off
the first day
Command Central was established.
I loved involving the whole family
in preparing for a special occasion,
and having a list that was flexible.
I think my family loved it because it kept me from
nagging…
…but they can't admit that in public,
because they don't blog.
So, I'll say it for them.
Anything that relieves stress for Mommy
is a success in our house.
What organizational victories have you had
while planning special events for your family this summer?