I've lived my entire life as an extrovert. I've had pangs of shyness in new situations  and have withdrawn  due to  extreme grief, but usually I'm comfortable in a crowd and thrive on the crowd's energy.
As a kid, I assumed all people were the same. A classmate at Jefferson Elementary School taught me differently. Anthony refused to talk.  He wouldn't answer the teachers' questions and didn't talk to kids at recess. It wasn't that he couldn't, he wouldn't.  He talked at home, he talked to a few of his friends, but the rest of the time, he refused to talk. Anthony is an extreme example, but was my first realization that not all people like to talk.
I've also learned there's a perception that because extroverts can talk freely in front of a crowd, they're free from the inner turmoil introverts admit having.  We may be different in our external response, but the internal response is probably more similar than you'd imagine.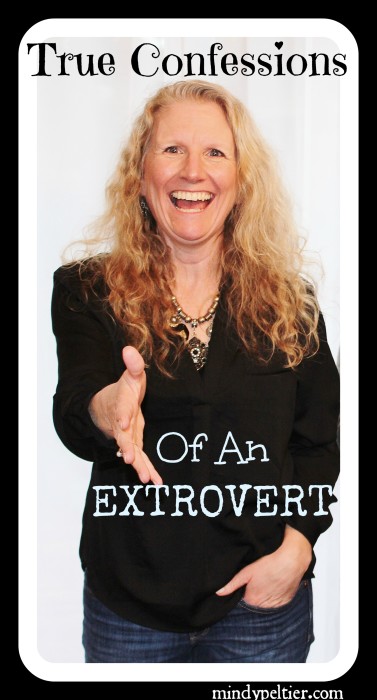 Let
me
confess…
1.  I still get nervous in front of a crowd.
Even though I usually thrill in crowds, whether it's a business dinner, giving an announcement, or teaching a workshop, I might get nervous. I don't dread being in front of a crowd, but there's intimidation. I might not sleep well the night before, especially if it is a new experience or new crowd.  My body responds by sweating like a man, turning red and chattering more than usual. But I love to share Jesus and any skillset I have, so I laugh about my smell and push through. Thorough preparation and practice combat my nervousness. I still need to purchase armpit shields for my dress clothes.
2.  I regret things I've said.
Sometimes I toss and turn at night, concerned about the words spewed from my mouth.  Did it come across right?  Did I offend anybody?  Do they know my heart's desire  was to help and not to hurt?  Should I apologize? As a Christian, I desire  to honor my Savior with my words. Praying ahead of time is the best tool to guard a tongue. A sincere apology heals any tongue breach.
3.  For everything I say, I have a 100 things I didn't say.
I don't want to be known as the woman who can "talk the hind leg off a mule," so I monitor conversations and categorize the 100 quips tornadoing around in my brain.  They're filed as the one (or two) most appropriate thing(s) to say, things that should stay in my brain for self-entertainment,  and things that will become Facebook posts.  Conversations also may be interrupted while I scribble down any of those 100 thoughts lucid enough to become a blog post.
4.  The weight of expectation can be heavy.
I'm always an extrovert, but I'm not always encouraged. Personal burdens make the perceived expectation to carry a conversation or a situation an added weight.  In this case, honesty about my discouragement relieves the weight. People understand. It's also relieves others from feeling they're causing my distress. Truly, it's not you, it's me.
5.  When I'm silent, people know something is wrong.
Introverts can be quiet when they're happy, sad, just fought with their spouse, or when someone they love dies.  Unless someone is perceptive, there might not be an obvious sign of personal distress for an introvert. When I'm silent I'm asked, "What's wrong?" This is a blessing because I always get the support I need during a trial.  But, as much as I love and appreciate people's concern,  I can't always share the details.  I might pretend I'm fine to avoid the attention, when I really long to sit in quietness and process the sorrow in my heart.  
6.  I process through my words.
When you ask me a question, I might verbalize my  words and read them in the air to formulate my answer. You might think I'm changing my mind.  I'm not.  I'm making up my mind by vocally and silently processing all the impacting factors to develop the best answer.  You get to joyride my answering process.
7.  It's easy to give my opinion, it's hard to disagree with yours.
I value people.  In fact, I collect people. Not stamps, not bells, not back scratchers, I collect people, with their various interests, abilities, ideas, stories, and backgrounds.  When I disagree, I might not say anything because I value you more than my opinion. If I know a topic might cause a disagreement, I won't bring it up. My exception is to defend the truth of the Word of God.  I will try to be gracious and kind, but I have to speak the truth in love.
8. I don't always fill up airspace because I want to be heard, but because you don't want to.
I'm sensitive to the pain of those uncomfortable with new surroundings, new people, and even new ideas.  To ease conversation I make introductions, affirm others, and ask questions.  But, if someone is totally uncomfortable,I sometimes draw attention away from them by drawing it to myself. I might make fun of myself, reveal an appropriate discomfort I've suffered, or break the ice with humor. It may look like I'm trying to be the center of attention, but that's not always the case.  My purpose is to draw everyone  into a circle of attention.
9.  I don't understand introverts.
I'm not trying to be mean or rude. Many of my closest friends are introverts. I simply don't understand. When a teacher asked a question, how did you not sit on the edge of your chair, shake your arm in the air, and loudly whisper, "I know!"  "I know!"  "Teacher! Teacher!"  I know you knew, how did you not want the whole class to know you knew?
How can you hear opinions, ideas, and facts swirling all around and not respond? I marvel. How do you keep your words inside your head?  I know you have deep emotions and opinions, how do you not  blurt them out? I seek that self-control, wisdom, and the ability to soak in the words, not always produce them.
10.  I cherish introverts.  I need introverts.
It's easy to hang around with like people, extroverts who jest, talk, and compete for air space.  But, I've learned to highly value my introverted friends, who trust me with their confidences, and open my world to theirs.  They've taught me to bite my tongue, choose my words wisely, and to be supportive, empathetic, and sympathetic without words.
By combining the best of being an extrovert
and the best I've learned from introverts,
I will become my best person.
And speaking of cherished introverts, why don't you pop over to the blog of my talented friend, Kim Vandel?  She's sharing her side of the story, "Becoming a Better Introvert."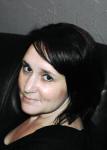 I'm a writer and voracious reader from the Seattle suburbs. I wanted to be Princess Leia when I grew up,
but I've decided that being a writer is even better than leading a rebellion against the Empire.
My current project is a YA suburban fantasy set in Washington state.
It features plenty of coffee but no vampires.