This t-shirt slogan caught my eye last summer at Bible camp.
The quote brought instant relief.
I thought, "Hey, that means my kids are gunna' turn out OK!"
See, I'm not always a normal Mom.
I would run as fast as I could across the grocery store parking lot,
get the cart up to speed and jump on,
and ride it to the car with the kids in it.
The kids thought it was funny when they were young and
were screaming in the cart,
but now that they're older,
I kinda' embarrass them.
Not many moms sleep on the trampoline with their kids.
Or buy themselves toys.
I might be the only mother who tried to increase the thrill
of the 14 foot high slide in the backyard
by teaching the kids to go down on waxed paper.
Another time I tried to turn the slide into a water slide.
I put the hose at the top of the slide
and let the water gush full blast down the metal
that was burning in the 90 degree 
North Dakota summer day.
It was glorious!
Until I reached the dirt and gravel in the pit below.
My road rash made the maiden voyage
the only voyage.
I tried going off a bike ramp on my son's bike.
I tried jumping stairs in my inline skates.
So the affirmation on this t-shirt really pumped me up.
Maybe it was OK I was an abnormal mother?
My problem wasn't
reading between the lines,
my problem was I hadn't
read ALL the lines. 

The shirt actually said –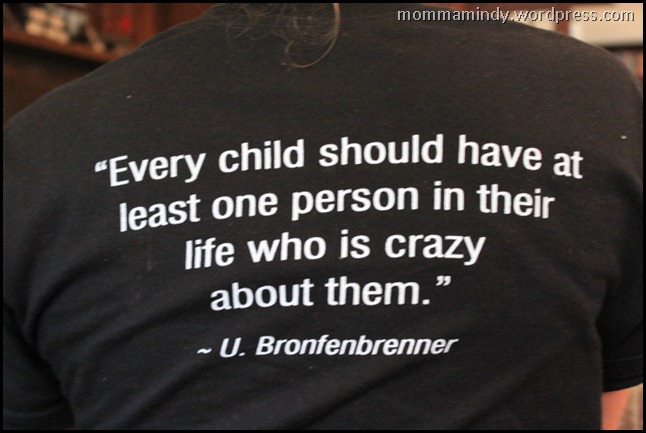 PHEW!
Good news.
My kids are still probably gunna' be all right
'cuz I love my six monkeys like crazy.
Their only problem may be getting over being raised by a
crazy momma…
Psalm 113:9
"He makes the woman….a joyful mother of children."
What kind of crazy things have you done with your kids?
Do you have any fun memories of your parents' craziness?
I'd love to hear your comments….
and know I'm not alone in my crazy…