When I whine about turning fifty, people often tell me it's just a number. To me it's a big number.  Older people wish they were "only" 50.  Younger people show proper respect and sympathy while they secretly think, "I'm glad it's you and not me."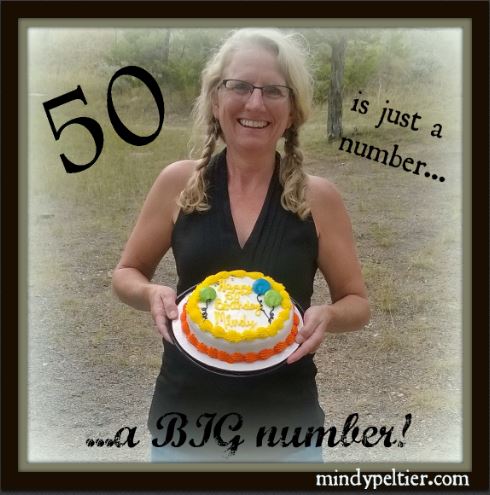 I'm five decades.
                I'm two score and ten.
                         I'm half of a century.
Kids look forward to turning double-digits, then becoming a teenager, then achieving 21. After that we embrace the presents and the cake, but not the number.
Nobody wants to be old.  We don't mind being older, but not being old.
The biggest surprise about turning 50 is how quickly it came.  One birthday I'm getting stuffed kissing monkeys whose arms Velcro around each other, the next birthday I'm a wrinkled Gwamma wondering if I'll ever accomplish my life's ambitions.  
A walk through a cemetery helped me decide "Turning 50? Dread is Better Than Dead."
My Golden Birthday started like most days for the last quarter century. I fortified myself with coffee and my Bible, then did a load of laundry. I picked up the house and finished packing for vacation.
Fifty doesn't have a feeling, but I have a feeling about being fifty.
Happiness is a choice, not a circumstance.
It shouldn't be an age, either.
The upside of turning fifty?
I'm not a teenager. I don't dream about forgetting my locker combination or walking the hallway without certain items of clothing. Wait. I guess I still do.
Nobody asks for help lifting or moving heavy furniture.
Inappropriate body noises are expected for old people.
The gray in my hair is wiry enough I don't need hair bands or bobby pins to style my hair.
I can go to the grocery store with paint on my clothes and in my hair.
An alarm clock isn't needed to wake me up early in the morning.
My husband is losing his eyesight and refuses to wear glasses, so he thinks I look as I did when we married.
I can join AARP. I hope they let me in, even though Mommies never really retire.
Others' opinions about my crazy behavior no longer matter, but I have accidentally embarrassed my kids on occasion.
I'm experienced. If I haven't gone through a problem, one of my friends has. We survived and grew.
The convictions I gained studying the Bible in my younger years have been tested by trials.  I no longer just know the right answers, I've had to live them.
Ten years of cancer and losing many friends to cancer have given me a new outlook on life. The Lord didn't promise me a long life or a healthy life, He promised me eternal life. I accept and rejoice in this.
When I was 11 I decided I wanted six kids.  The Lord blessed me with that desire.
Scott and I also have four grandkids, two granddogs and one grandcat.  We look forward to aging with a lot of company along the journey.
My youthful dreams about traveling have come true.
People expect me to misplace my cellphone, keys, and purse on a regular basis.
If I put on weight nobody suspects I ate too much chocolate. They assume I'm aging.
Little accomplishments are celebrated by others because "it's not bad for my age." Like when I started running and could only run two blocks.
My kids finally lost the expectation that I will call them by the right name.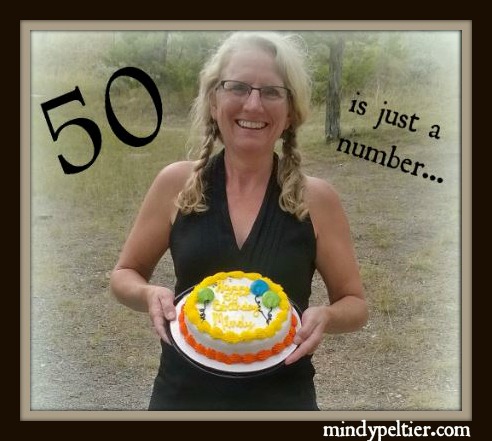 Fifty is a big number. But, it numbers years of big blessings.
You might also want to read…