How much fun are you having in life?
.
A barrel of fun?
.
Barrel O' Fun used to be a local business.
.
I say used to, because I used to live in Minnesota. We even toured the factory in Perham, MN for a homeschool field trip. Of course, that was before digital photography. I have no pics to boast about watching the conveyor belt dump mountains of chips into open bags.
.
By the way, the same chips go into about ten different bags. I saw first hand that generic doesn't always mean an inferior product. Contrary to urban legend, they don't save all the broken, discolored chips for the generic bags. Same chips, different packages.
.
Anyhoo….
.
.
After Linda's blog started my salivary glands craving caramel corn, I bought four bags of puffed corn in North Dakota. It was SO hot, I thought the bags would explode in the car.
They were more bloated than a pregnant woman's ankles in August.
.
I arrived home with only three.
.
OOPS!
Snacking helps you stay awake when you have to drive 1380.20 miles…
     in the heat….
          without a relief driver…
               and you haven't slept well for weeks…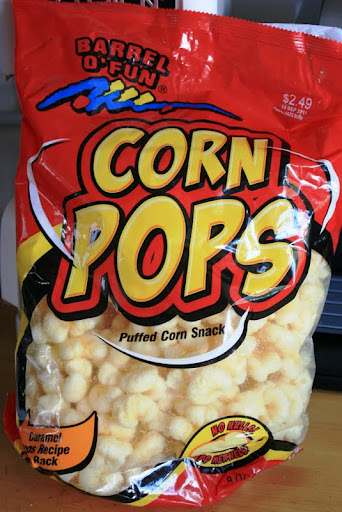 The back of the bag has the perfect recipe to make this…
…turn into this.
.
Sweet, delicious, melt-in-your-mouth,
you've-never-had-caramel-corn-this-good-before
deliciousness.
.
Tired of biting into an old maid or having a popcorn hull stuck between your molars for weeks? Never again.
.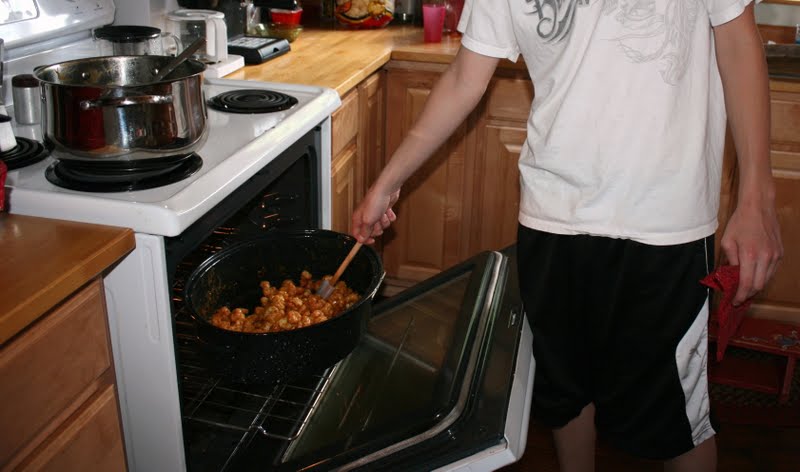 After mixing all the ingredients, Jon stirred the gooey stuff every 15 minutes. I'm not a bad photographer, he didn't want his picture on my blog. I promised him I wouldn't show his face, so I purposely cut off his head. Yea, I'm a good mom, I am.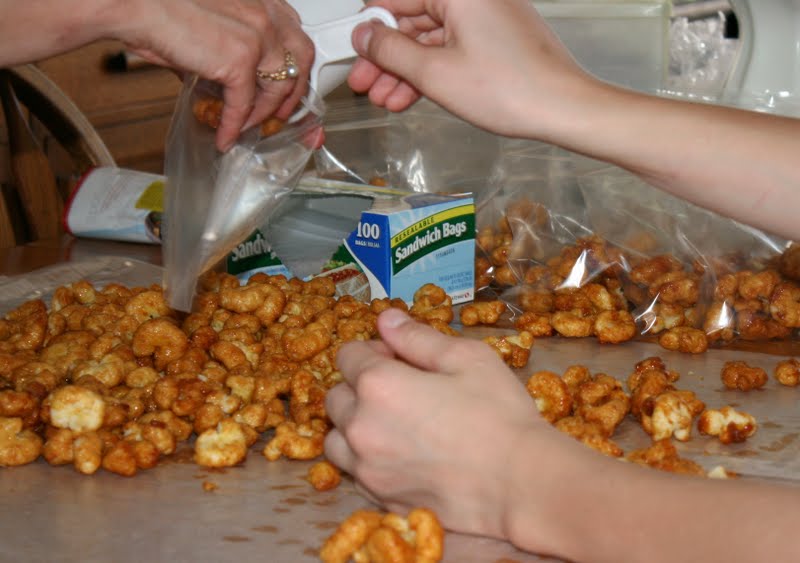 We carefully put 1 cup in each bag, because we knew that the first one to the tub of caramel corn would be tempted to eat it all. Especially if that first person was me. The fairness dividing routine wasn't enacted just for the kids.
Wouldn't this treat be sweet in these little boxes? This is one of the projects I did for my daughter's
graduation party
.
.
Whoever named their company had great insight into the psychology of snacking-happiness. Eating this stuff, especially carameled, is a
Barrel O'Fun!
Barrel O'Fun Caramel Corn
Mix:
( in 2 quart sauce pan)
1/2 cup butter
1/2 cup light corn syrup
1 cup brown sugar
Stir and cook for two minutes or until bubbly around the edges, remove from heat.
.
Add:
one tsp. baking soda to cause foaming, this will allow for proper coating
Pour caramel stuff over corn pops and stir until coated. Place in a 250º oven for 45 minutes, stirring every 15 minutes. Remove from oven and pour onto parchment paper. Spread apart before it cools so will cool separately.
MAY 2022 UPDATE:
I finally found the degree symbol, so note the updated temperature. ♥
I've been living in an area that doesn't sell Barrel O' Fun, so I've had to substitute Chester's Puffcorn from Frito Lay.  Their bags are 3 1/4 ounces, so I use three. Chester's has bigger kernels, but it still turns out delicious.
If you're putting it in containers, you should get 25 one-cup servings.