When fighting cancer you laugh  because you don't want to cry.
A few weeks before my second papillary thyroid cancer surgery, my 13-year-old son, Jon, was way more excited than me.
"Yea, cool, mom, so are ya' nervous? Like they're going to go in there and slash you open and look for the cancer!"
I bit my tongue for about five seconds then calmly informed him that I was his mom, I loved him, and I didn't take offense, but warned him against using the term "slashing" to other cancer/surgery patients.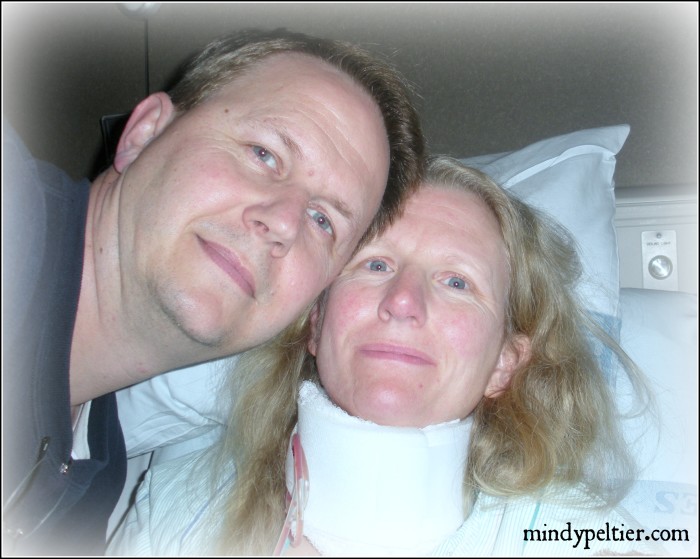 My husband, Scott, was a little more dramatic when I first removed the cool white foam neck guard and dared look at the 6 1/2 inch scar that chokered half way around my neck and up to my right ear.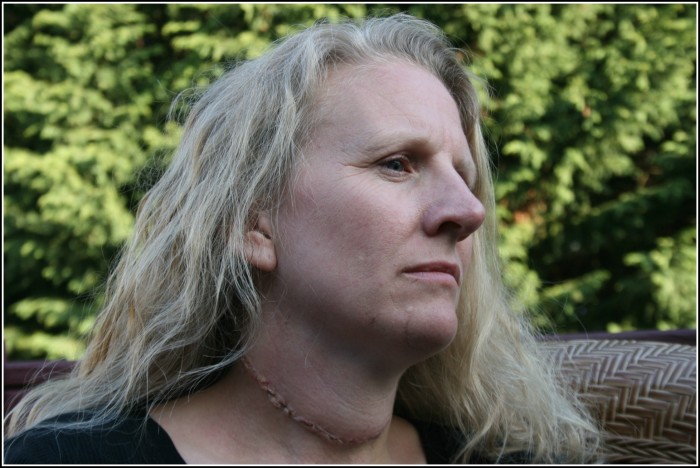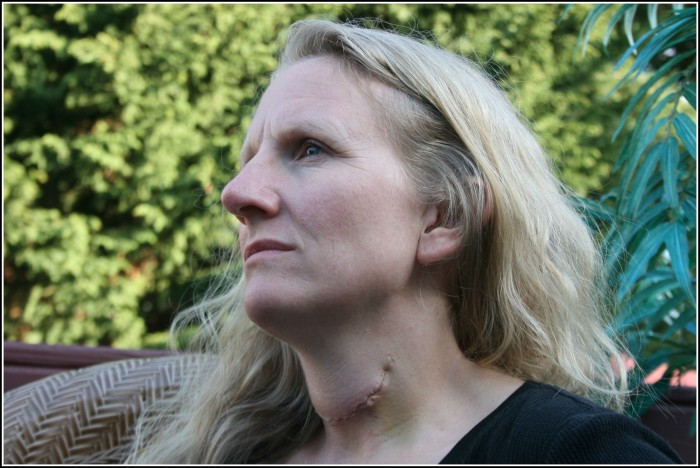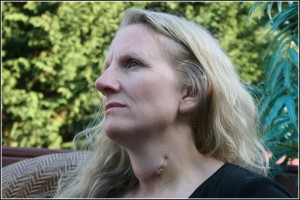 "Wow, you look like you got ripped
open with a chain-saw!"
When we discussed the near-certain probability of future surgeries he created a clever solution.
"Hey, they should have just put in a zipper, so instead of another surgery, we could just zip it open, take out the cancer and zip it back shut."
Why didn't my doctor think of that?
Another comment came during coffee break at church.
My always-laughing friend, Betty, admired my scar and said, "They really sliced you open this time!"
It was fair game.
When she came to church with a band-aid  covering the spot where they removed skin cancer on her nose I'd asked if she cut herself shaving.
I guess we're even.
It took my 6-year old daughter, Rebekah, awhile to get used to the scar. After a few days she was ready to join in the laughter.
"You know what it looks like Mom? Let me show you!"
She dug around in a drawer and came back triumphantly. She asked  if the doctor used scissors to open up my neck. We must not have satisfied her curiosity, because a few days  later she questioned us further.
"Did they use a plastic knife or a sharp knife?"
I needed clarification. "Do you mean when they cut me open for surgery?"
"Yes."
Daddy decided to add his expert commentary, because Daddies Know Everything. "They used a sharp knife."
Beka asked, "Oh, a sharp plastic knife?"
I said, "No, a sharp metal knife. It is called a scalpel. It's sharp so it doesn't hurt. They use it once and throw it away."
"Oh." I think she liked her tool choice better.
I'm thankful we've communicated about something that is horrible and scary – cancer. Teasing and joking are acceptable methods of dealing with stress, and I'm thankful my kids and husband  felt comfortable enough to tease me.
That is normal for us.
Normal feels good.
The scar doesn't bother me. I don't cover it with a scarf, I don't cover it with makeup.   Maybe because I'm happily married and my husband doesn't care. Maybe because I am getting wrinkled and gray and one more flaw can't make that much of a difference. It also helps that at 5 foot 2 inches, I'm shorter than most people and they look down on me and don't  see my neck.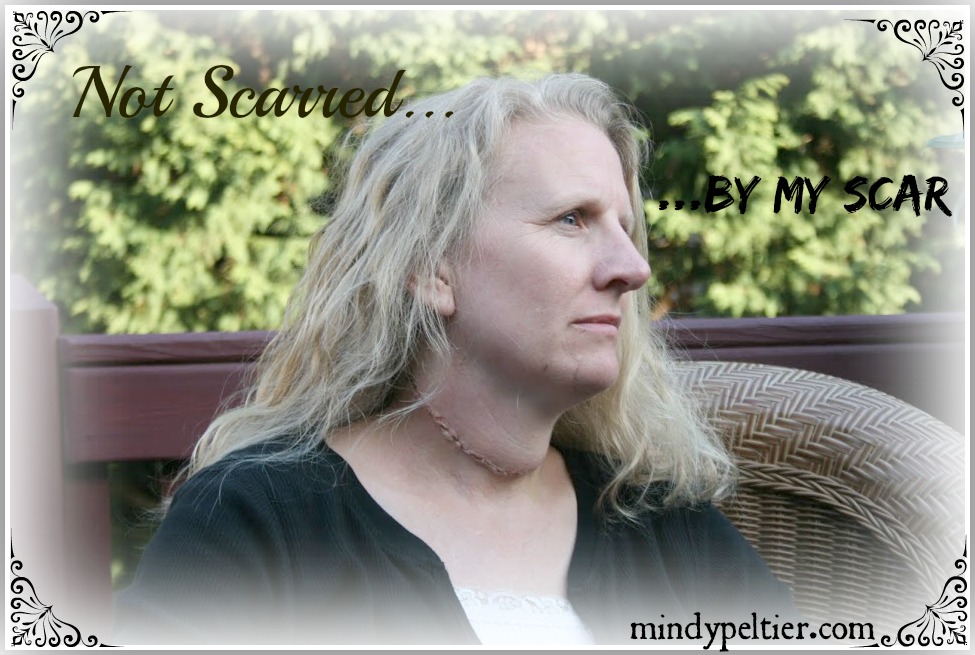 My scar is a symbol of overcoming.
The Lord has been my strength and my song, and many prayers have padded the rocky road with peace and comfort. A nurse told me to wear my scar proudly, because I was alive.
God will not look you over for medals, degrees or diplomas, but for scars!
Awhile back this wall-hanging in an antique store was an inspiration – not enough to buy it, just enough to photograph it. I should have bought it. I now consider it spiritual foreshadowing as the Lord prepared me for another setback.
It was two weeks prior to hearing that despite this successful surgery, my cancer returned a third time.
The Lord was preparing my heart…
…and looking over my scar.
From now on let no one trouble me, for I bear in my body the marks of the Lord Jesus.