This is the second part of a tribute to my friend, Kari. It isn't her complete life story, she was impacted by many friends and relatives she cherished.  It's a small view into her world through my experiences, which at times are fuzzy with time and grief.  If you didn't read part one, please go back and read:
Kari and I were thrilled to find each other again!  We later joked what others  thought to see two cars pull up to the thrift store, four people politely chatter as they merged toward the door, then two women suddenly bear hug.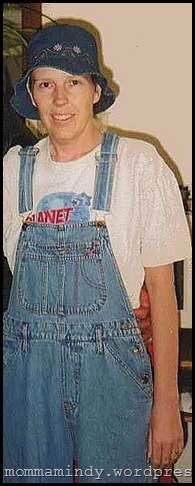 She proved her hat wasn't an adaptation to Montana fashion, where people aren't  in style or out of style, you're free to wear your own style. Standing on the sidewalk, she removed it and proudly showed me her scar where a brain tumor had been recently removed.
And she smiled while she told me about her cancer.
Her big "I can take on the whole world" smile. The "I have enough joy for the rest of you" smile.
We moved into the store, talking, laughing and sometimes shopping.   When it was time to part ways, we did what people did before cell phones.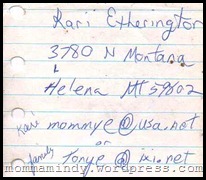 I handed her the tiny black binder in my purse to write down her address.  I had no idea how precious this scrap of paper would become.
Our families spent a day at my parents' cabin, swimming, snacking, climbing trees and enjoying Montana's scenery. Kari and I talked non-stop.
We were in the same crowd in high school,  but each had our own closest friends. We filled in the gaps of the years. College years. Falling in love and staying in love. Becoming mothers; she had four kids, I had five at the time. I shared how I'd trusted Christ as my Savior. In all our conversations, intermingled our marvel at the Lord's timing. The reason He'd spared our lives in high school was beginning to unfold.  It was for such a time as this.
Inevitably, we talked about high school. Regrets. Broken hearts. Tormenters. Friends.  Accomplishments.  She shared heartaches that made me admire her strength and joy anew. I regretted  not knowing or helping, worried she'd shouldered life alone. She assured me her best friends in high school had upheld her. The strength of their love and loyalty graced the rest of her life.
I shared my pain of moving from Helena to her North Dakota hometown and relived the stir I'd caused on the first day of 8th grade.  During registration, I'd walked across the gym, our entire class watching from the bleachers,  straight to the Industrial Arts table to sign up for shop. Since I already sewed my own clothes, did laundry, babysat and cooked meals for my family of eight, I didn't need Home-Ec. I'd already had one year of woodworking at Helena Junior High, and was excited to move onto bigger projects. Following school policy, the teacher refused admission. When I was politely adamant and explained my reasons, he called in the principal and the superintendent for support. At that moment, I knew my career at that high school wasn't going to be stellar.
"I remember what you were wearing," said Kari. Her smile overcame the  chemo hair standing in tufts on her head.
"What?" I was consumed with my tale of discrimination and moving into the Dark Ages and she was consumed with my clothes.
She recounted my walk across the gym floor from her admiring point of view. "You were wearing gauchos and a yellow t-shirt with your name on. After that, I begged my Mom to drive me to Grand Forks to buy gauchos."
When the summer of 1999 approached, Kari asked me to go to our 18th class reunion/ all school reunion with her. I said no. Actually I said, "NO WAY! WHY WOULD I DO THAT?"
High school wasn't good to me.  For five years I was teased, my locker ransacked, books knocked out of my arms in the hallway. Lies were spread until I wondered who to trust. I got in trouble for things I deserved; I took the punishment for things I didn't deserve.
Several teachers used me as their verbal punching bags, to a point where one student pulled me aside in the hallway and advised, "I think you should get a lawyer." I thought movie caricatures of tormented high school kids could have been based on my life. Miserable, I tried to graduate early. The guidance counselor refused. I stuck out my entire senior year.
That same guidance counselor called me into his office that spring and asked me to give a graduation speech. I refused with the clichéd  laugh in his face. He was surprised because nobody had refused this "honor" before.
I had nothing to say and nothing to prove. I only wanted out.
He wanted to know why. "I don't have anything to say to anybody," was my answer based on my mom's advice,  "If you can't say anything nice, don't say anything at all."  My friend Chris, who had always dreamed of giving a graduation speech, was elated to be given the honor.
Kari wouldn't give up. She wanted to go, but didn't want to go alone. My selfish hoarding of bad memories was only broken when she finally said, "Mindy, I won't make it to our 20th."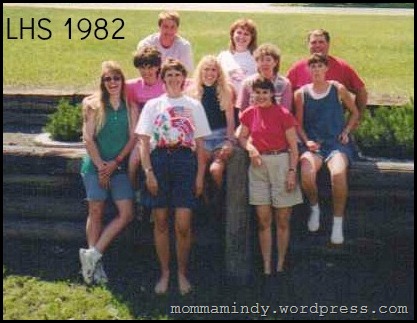 (Kari is far left, middle row, in pink t-shirt)
Kari arranged for some of the class of '82  to meet at a home with spouses and kids. Later we joined the rest of the class downtown.
I was stunned when my greatest tormenter was the first to greet me with a hug. Three people said, "Oh, you graduated with us?" My impact on some of my classmates wasn't as great as the impact they'd made on me.
With each conversation and renewed acquaintance, I replaced a bitter memory with a better memory.  I counted my tormenters to be fewer than my friends, they had only talked louder and made more of an impact. No, I had allowed them to make more of an impact. I also learned that those who inflicted the most pain probably hadn't meant to. We all were suffering and surviving the halls of high school.
Over a pizza later, I admitted she was right to make me attend our class reunion. I thanked her for pushing me.
She smiled her Kari smile.  She knew all along she was right, and I was finally admitting it.
For me, the reunion was the beginning of a new beginning.  For Kari, it was the beginning of the end.

to be continued… 
Continue reading part three ~ "The Beginning of the End"